I didn't ask for anything: Rahul Gandhi after offering prayers at Kedarnath
Dehradun: Congress vice President Rahul Gandhi today offered prayers at Kedarnath Shrine early in the morning today.He was among the first batch of devotees to reach to the temple as soon as the doors were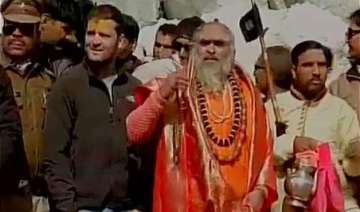 India TV News Desk
April 24, 2015 13:51 IST
Dehradun: Congress vice President Rahul Gandhi today offered prayers at Kedarnath Shrine early in the morning today.
He was among the first batch of devotees to reach to the temple as soon as the doors were opened at 8:50 am.
Speaking to the mediapersons, he said, "Main Mandir me kuch maangta nahi hun, par Jab mai andar gaya mujhe aag jaisi shakti mili (I do not ask anything in temples but when I went inside, I felt immense spiritual strength).
After paying obeisance at the temple, Rahul also took note of the preparations made by the state government for the pilgrims.
He also paid homage to the people who lost their lives in tragedy two years ago.
Uttarakhand Chief Minister Harish Rawat and state Congress chief Ambika Soni accompanied the Amethi MP Rahul Gandhi on his visit. They reached the Jolly Grant airport in Gaurikund by a government helicopter around 2 pm yesterday and started on the 10-km long trek to Lincholi where they halted for the night.
On being asked why he chose to travel on foot, 44-year old leader said, " I thought if will go to kedarnath  by helicopter, it will not be respectful to those who lost their lives in tragedy."
"Second if I will go by walk then people who work here will get benefit as more visitors will come after watching me," the heir apparent of Congress party said.
Rahul Gandhi recently returned from his 59-day sabbatical and was leading the Congress on farmers' issue. However, he did not attend the debate in Lok Sabha on Thursday. In his second speech in three days in Lok Sabha on Wednesday, he took on government on  Net Neutrality issue.