Rahul Gandhi's next stop Vidarbha, to hold 'padyatra' tomorrow
New Delhi: Ratcheting up pressure on farmers' issues, Rahul Gandhi's next stop will be Vidarbha in Maharashtra where he will hold a 15-km 'kisan padyatra' (footmarch) tomorrow as he criss-crosses the country to reach out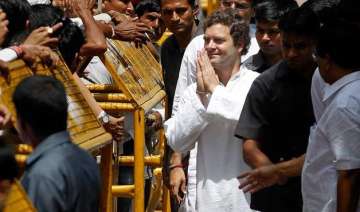 PTI
April 29, 2015 13:30 IST
New Delhi: Ratcheting up pressure on farmers' issues, Rahul Gandhi's next stop will be Vidarbha in Maharashtra where he will hold a 15-km 'kisan padyatra' (footmarch) tomorrow as he criss-crosses the country to reach out to the farmers in distress in various states.
The Congress Vice President, who met farmers in Punjab yesterday, will commence his foot march from village Gunji at 7 AM on Thursday and end it at Ramgaon.
Maharashtra is one of the states that experienced severe agrarian crisis and Amravati division in Vidarbha region has witnessed many farmer suicides this year.
According to the programme released by his office, Rahul will also visit Rajana and Tonglabad villages in Amravati district tomorrow.
He will also be visiting a number of districts in Uttar Pradesh, Andhra Pradesh, Rajasthan, Maharashtra, Punjab and Telangana.
Rahul had yesterday taken his fight against the contentious land acquisition bill to Punjab as he travelled by train to visit the NDA-ruled state and vowed to raise voice for farmers on every platform. His visit came at a time when farmers in the region have accused the government of tardy wheat procurement.
In Uttar Pradesh, Rahul could travel to Bundelkhand and eastern Uttar Pradesh. The Congress Vice President had in the past also taken up the issue of Bundelkhand, ensuring a package for the region during UPA rule. Eastern Uttar Pradesh borders Bihar where polls are scheduled later this year.
As Congress is seeking to make land acquisition bill a major issue to arrest its sliding fortunes, Rahul's public outreach plan is aimed at galvanising the party cadres and broadening the party base among farming communities.
Rahul's march is also seen as an exercise to connect the party with grassroots after its worst-ever debacle in the 2014 Lok Sabha polls in which its tally came down drastically to 44 from 206 in the 2009 general elections.
Its woes did not end there as the drubbing in Lok Sabha polls was followed by a series of defeats in state elections.