Rahul Gandhi to launch countrywide 'padyatra' against Modi govt's land reforms
New Delhi: Congress vice-president Rahul Gandhi is set to undertake a foot march (padyatra) from Vidarbha in Maharashtra by month-end against the Narendra Modi government's land reforms. Sources within the Congress said April 30 has been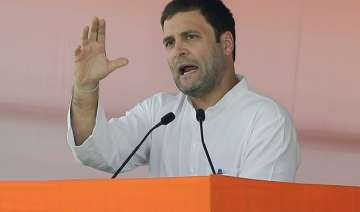 India TV News Desk
April 27, 2015 9:54 IST
New Delhi: Congress vice-president Rahul Gandhi is set to undertake a foot march (padyatra) from Vidarbha in Maharashtra by month-end against the Narendra Modi government's land reforms. 
Sources within the Congress said April 30 has been fixed as the tentative date for the launch of Rahul's campaign.
The foot march is aimed at wooing farmers at a time when there is widespread distress among the community against the NDA government's contentious Land Bill. 
A party leader said that despite extreme weather conditions, Rahul will cover a distance of 15-18 km in a day during the padyatra which will take him to different parts of the country.
Vidarbha has been selected under a well-crafted strategy for launch of Rahul's padyatra. Once known as the country's cotton belt, the region is infamous for suicides by debt-trapped farmers.
After returning from 59-daylong sabbatical, Rahul aggressively raised the issue of farmers at a party rally in Ramlila Maidan in Delhi and later in Parliament. 
Rahul is also expected to visit Marathwada and western Maharashtra, Telangana, Uttar Pradesh, Bihar, Rajasthan and other parts of the country.