Rahul Gandhi likely to visit Maharashtra and Telangana next week, to meet farmers
New Delhi: Congress vice-president Rahul Gandhi is likely to travel to Maharashtra and Telangana next week.Sources said that preparations are in full swing for Rahul's visit to agricultural distress-hit areas of the two states where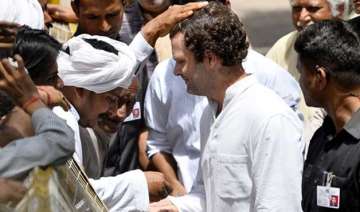 India TV News Desk
April 25, 2015 10:28 IST
New Delhi: Congress vice-president Rahul Gandhi is likely to travel to Maharashtra and Telangana next week.
Sources said that preparations are in full swing for Rahul's visit to agricultural distress-hit areas of the two states where farmers are worst hit by unseasonal rain. The two states have also witnessed maximum number of suicide cases by farmers.
Probably, sources added, it could be a padayatra or visit to the houses of farmers who have committed suicide due to massive crop loss.
Rahul is also likely to undertake a padyatra in Punjab, Bihar and Madhya Pradesh where he will assess the loss incurred to farmers due to unfavourable rain and hailstorms in last few weeks.
Ever since he returned from his 59 days sabbatical, Rahul has been quite active in Parliament, speaking twice this week in the House. He also visited Kedarnath temple in what is seen as a spiritual-cum-political trip.
The Congress leader is also likely to speak in Parliament on the issue of price rise next week.
The distress-hit areas would be high on Rahul's itinerary and Congress would leave no stone unturned to keep the heat on the government over the issue of agrarian and Land Bill.