Rahul Gandhi's visit to Punjab a political gimmick: BJP-SAD
New Delhi: BJP and its ally, Akali Dal which are in power in Punjab today attacked Congress vice president Rahul Gandhi over his visit to food-grain markets in the SAD-BJP ruled state terming it as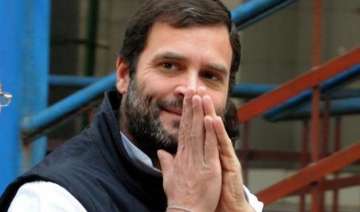 PTI
April 29, 2015 8:19 IST
New Delhi: BJP and its ally, Akali Dal which are in power in Punjab today attacked Congress vice president Rahul Gandhi over his visit to food-grain markets in the SAD-BJP ruled state terming it as a "political drama" and an attempt to target the Land Bill.
Union Communications minister Ravi Shankar Prasad said the Congress leader needed to study law and also realize that land acquisition was important for farmers too.  "I always say about Rahul Gandhi that he should do some homework and study law. Land is needed for all the purposes including irrigation facilities, construction of canals, Pradhan Mantri Gram Sadak Yojana," he said.  Akali Dal leader and Union minister Harsimrat Kaur Badal ridiculed Rahul for returning after "two months holiday" and going to Mandi (market) for being able to raise questions in the Parliament.
"He has returned after two months of holiday but when there were rains and hailstorm he did not go to the fields or the farmers.
"He is going to the Mandi (food grain markets) so that he could raise the farmers' issues in the Parliament. For ten years his government was there what did they do for farmers and how many times he visited Mandis. These are all political drama it will have little effect," she said.  Several BJP leader reciprocated the same sentiment.  "He himself is admitting that he is doing politics on the Land Bill which is very unfortunate," said Rajiv Pratap Rudy.  Party leader Anurag Thakur said "for ten years the country suffered because of Congress's politics and unfortunately when the world is looking at India and its growth, they are doing politics with Land Bill."
Rahul visited Khanna and Gobindgarh in Akali Dal-BJP ruled Punjab today to take stock of the situation in the state's grain markets where farmers are finding it difficult to sell their produce after the recent unseasonal rains.  Replying to criticism of Rahul's visit, Congress spokesman Abhishek Manu Singhvi said that it was "sad if not laughable".
"This episode is sad if not laughable. First Narendra Modi and his government formulate anti farmer policies and then try to get it passed in the Parliament against its opinion. All over the country there is a movement (against Land Bill) and still they have the guts to term Rahul's visit as anti-farmer," Singhvi said.