Rahul invoking Gujarat riots issue for Muslim votes: BJP
Ahmedabad: Gujarat BJP today sharply reacted over Rahul Gandhi's remark about Narendra Modi's role in 2002 riots saying it was an attempt by the Congress to garner Muslim votes."Instead of giving answers about their failures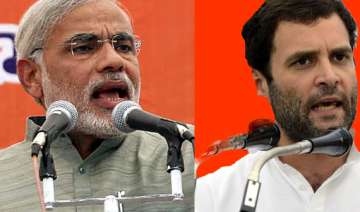 PTI
March 17, 2014 11:38 IST
Ahmedabad:
Gujarat BJP today sharply reacted over Rahul Gandhi's remark about Narendra Modi's role in 2002 riots saying it was an attempt by the Congress to garner Muslim votes.
"Instead of giving answers about their failures in the last 10 years, Congress leaders are deliberately invoking riot issue to get Muslim votes in the election," said Harshad Patel, media convener of Gujarat BJP.  
In an interview to PTI today, Rahul hit out at BJP's Prime Ministerial candidate demanding "legal accountability" for the "clear and inexcusable failure" of governance during the 2002 Gujarat riots and dismissed talk of clean chit to him as "politically expedient" but "far too premature".  
"As you know, the SIT report had been seriously questioned by a number of credible experts.
Grave flaws have been pointed out in the functioning of the SIT.