Rahul Leads Congress' Campaign For Bypolls In UP
Buoyed by its success in recent Lok Sabha elections in Uttar Pradesh, Congress is using star campaigner Rahul Gandhi and Union Ministers in 11 Assembly and one Lok Sabha seat going to bypolls in the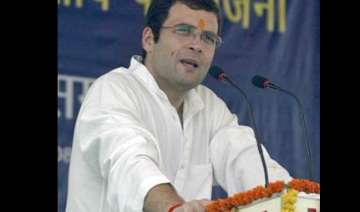 PTI
November 02, 2009 18:07 IST
Buoyed by its success in recent Lok Sabha elections in Uttar Pradesh, Congress is using star campaigner Rahul Gandhi and Union Ministers in 11 Assembly and one Lok Sabha seat going to bypolls in the state on November 7.
An exception was made by Rahul when he campaigned in Firozabad last week for party nominee Raj Babbar against SP candidate Dimple Yadav, daughter-in-law of Samajwadi Party chief Mulayam Singh Yadav.
SP later criticised Congress for fielding its top leader for campaigning in the constituency as the party had refrained from naming candidates against Rahul and Sonia Gandhi in Lok Sabha elections.
Defending its decision, Congress said campaign by its top leaders would send a message that the party is giving Uttar Pradesh top priority with an eye on the state assembly polls in 2012.
"It is a clear message that the top leadership, including Rahul, is taking a keen interest in Uttar Pradesh and is giving it top priority," UPCC spokesman Subodh Srivastava said.
The by-election has been necessitated after the resignation of Akhilesh Yadav who vacated Firozabad and retained Kannauj Lok Sabha seat.
Besides Rahul Gandhi, Union ministers Jitin Prasad, Pradip Jain Aditya and RPN Singh are staying put in different Assembly constituencies in their respective Lok Sabha constituencies where by elections are being held.
Union minister Salman Khursheed, Moradabad MP Mohammad Azharuddin, party in charge of state Digvijay Singh and UPCC president Rita Bahuguna Joshi are criss-crossing the state holding public meetings and road shows to keep the momentum alive.
A senior party leader said Congress is the only party which is campaigning most vigorously for these by elections and our task is not to spell out the number of seats that we would be winning but to win over the confidence of the electorate which is turning towards us and make inroads into the vote bank of other parties.
"People would realise that when Union ministers are at their doorsteps to look into the problems, a Congress government in Lucknow would be more receptive to their needs and aspirations," he added. PTI