Rahul's Punjab visit a 'day-long excursion', will boomerang on Congress: BJP
New Delhi: BJP today termed Rahul Gandhi's visit to Punjab as a "day-long excursion" and "tourism" and asked where was the Congress vice president when a large number of farmers died during the 10 years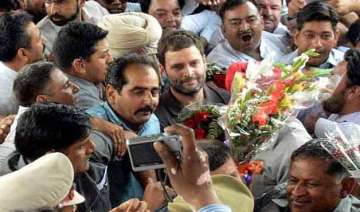 PTI
April 29, 2015 22:27 IST
New Delhi: BJP today termed Rahul Gandhi's visit to Punjab as a "day-long excursion" and "tourism" and asked where was the Congress vice president when a large number of farmers died during the 10 years of UPA rule.  
"He is resorting to tourism... He is free and welcome to travel across the country," said Union Minister Dharmendra Pradhan, when asked about Gandhi's visit Punjab to highlight the farmers' plight.
Another senior Union Minister termed the visit as a "day-long excursion" and said such "one-day publicity" measures will boomerang on the Congress party.  
"Rahul Gandhi is resorting to a day's excursion. Where was he when lakhs of farmers were dying during the last 10 years when his party was in power? Such things of one-day publicity are going to boomerang," said the senior minister.  
Gandhi had yesterday visited Punjab and met farmers to see their condition "with my own eyes". Gandhi visited Sirhind, Khanna and Gobindgarh mandis where farmers were reportedly finding it difficult to sell their produce after the recent unseasonal rains.
The three mandis which Gandhi visited are the state's three main grain markets.  The senior minister also challenged Congress over its criticism of Prime Minister Narendra Modi over his foreign travels, saying he is not the only one travelling abroad as all previous Prime Ministers did so and claimed that Modi was trying to build "brand India" abroad and improve the country's image.
Citing figures, he said, the Prime Minister has travelled to 15 countries and spent 45 days abroad in a period of 11 months, while former Prime Minister Jawaharlal Nehru spent 286 days abroad during his tenure.
He added that former Prime Minister Indira Gandhi had also travelled abroad and so did Rajiv Gandhi, Narasimha Rao and Manmohan Singh and thus criticising Modi was not justified.