Rahul's statement about RSS childish: BJP
Dehradun: Terming as childish Rahul Gandhi's statement holding the RSS responsible for the assassination of Mahatma Gandhi, BJP today said it shows his poor knowledge of history."Rahul Gandhi's statement about RSS being responsible for the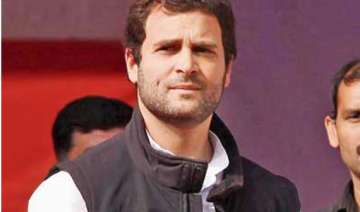 PTI
March 08, 2014 15:49 IST
Dehradun:
Terming as childish Rahul Gandhi's statement holding the RSS responsible for the assassination of Mahatma Gandhi, BJP today said it shows his poor knowledge of history.
"Rahul Gandhi's statement about RSS being responsible for the assassination of Gandhi is childish.
It shows his lack of knowledge of history. He should read history, the court order giving a clean chit to the RSS in the case and the statement of the then Home Minister in Parliament," BJP national secretary Trivendra Singh Rawat told reporters here today.  
Asking Rahul to restrain himself while making public speeches, Rawat said he should not indulge in mud-slinging against a nationalist organisation without acquainting himself with the facts.
Claiming that there is a wave in favour of BJP countrywide, he said "prominent leaders quitting major political parties to join BJP ranks is a significant pointer to this fact."