Rahul Seeing Elephants Even In His Nightmares, Says BSP Leader Mishra
Gonda, Jan 20: BSP leader and Mayawati's close confidante Satish Chandra Mishra today lashed out at Congress general secretary Rahul Gandhi saying that he was seeing elephants even in his nightmares.  Addressing an election meeting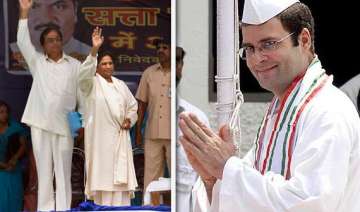 India TV News Desk
January 20, 2012 20:11 IST
Gonda, Jan 20: BSP leader and Mayawati's close confidante Satish Chandra Mishra today lashed out at Congress general secretary Rahul Gandhi saying that he was seeing elephants even in his nightmares.
 
Addressing an election meeting in Mankapur, a Brahmin-dominated area, Mishra said Rahul Gandhi was literally afraid of the BSP.
 
Mishra appealed to Brahmins to beware of the Samajwadi Party, which he said was Number One enemy for the community.
 
He claimed that Mayawati's government finished off the "goonda raj" during SP rule and asked voters to renew the mandate.