Rahul to discuss food ordinance with state Congress leaders
New Delhi, July 17: Keeping up the momentum on the UPA's flagship social welfare scheme, Congress vice president Rahul Gandhi will meet state party leaders to discuss the food ordinance July 27, party sources said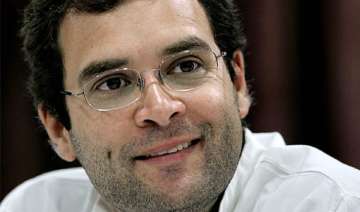 IANS
July 17, 2013 7:07 IST
New Delhi, July 17
: Keeping up the momentum on the UPA's flagship social welfare scheme, Congress vice president Rahul Gandhi will meet state party leaders to discuss the food ordinance July 27, party sources said Tuesday.
According to the sources, Gandhi will meet the state unit chiefs of the party-ruled states and the legislative party leaders of states where the party is in opposition, to push the food ordinance expected to be a "game changer" ahead of the five assembly polls this year and the 2014 general elections.
Food Minister K.V. Thomas is also expected to attend the meeting.
The top Congress leadership including Prime Minister Manmohan Singh, party president Sonia Gandhi, and Gandhi Saturday discussed the implementation of the ordinance, which aims to provide subsidized rations to around 67 percent of India's 1.2 billion population with its chief ministers.
The scheme is expected to be rolled out in all Congress-ruled states on Aug 20, the birthday of former prime minister Rajiv Gandhi.
The Congress has started sending its spokespersons across the country from Monday to give wider publicity to the right to food ordinance.
The government hopes to pass the ordinance in the monsoon session of parliament starting Aug 5.
As per the constitution, an ordinance has to be passed within six weeks of the date of commencement of the next session of parliament.