Railway Minister seeks CMs' help to develop railway infrastructure
New Delhi: Union Railway Minister Suresh Prabhu yesterday said he has sought cooperation of all Chief Ministers to forge partnerships between the Centre and the states to develop railway infrastructure across the country which could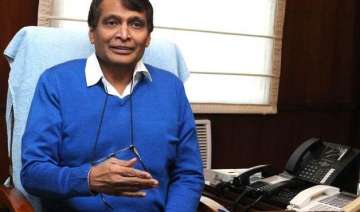 PTI
January 07, 2015 12:22 IST
New Delhi: Union Railway Minister Suresh Prabhu yesterday said he has sought cooperation of all Chief Ministers to forge partnerships between the Centre and the states to develop railway infrastructure across the country which could fuel economic growth.
"To develop infrastructure more funds are needed, tracks need to be broadened and for that land is needed and the cooperation of the state governments becomes essential here. I have written to the Chief Minister of every state to forge a partnership with the Centre so that together we are able to implement all the schemes...If the railways doesn't improve the country won't go forward," he said.
The Minister also expressed the hope that the "new" government in Delhi that will come to power after the Assembly polls will better the coordination level with the Centre by developing such a partnership.
"I believe that the new government that will come to power in Delhi very soon (will better the coordination) Dr Harsh Vardhan will also help us in coordinating between the state government and the Centre so that a similar partnership develops for Delhi as well," he told reporters here.
"People want that a BJP government comes to power in Delhi and that would be excellent...All over the country we are working steadfastly for the interest of common people without looking at the political colour of the ruling parties of respective states," the Minister said.
Asked whether he was indicating that Vardhan may become the Chief Minister if BJP comes to power in Delhi, Prabhu refused to reply.
"We need to provide infrastructure at many places. (We) need to strengthen infrastructure and expand facilities where infrastructure is at place to fulfil the rising aspiration of people," Prabhu added.
He made the remarks during an event to flag off three trains - two for West Bengal and one for Bihar - from Anand Vihar station here in the presence of MoS Railways Manoj Sinha, Union Minister Harsh Vardhan, East Delhi BJP MP Maheish Girri, Railway Board Chairman A K Mittal and other top officials.