Raj Babbar's Victory Beginning Of People's Faith In Congress, Says Digvijay
With Raj Babbar winning the Firozabad Lok Sabha bypoll, Congress on Tuesday  termed it as a "beginning" of people's faith in the party in Uttar Pradesh and said it will form the next government in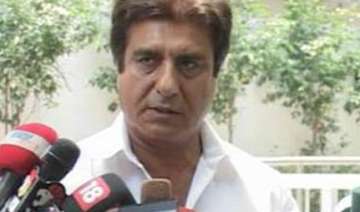 PTI
November 11, 2009 11:17 IST
With Raj Babbar winning the Firozabad Lok Sabha bypoll, Congress on Tuesday  termed it as a "beginning" of people's faith in the party in Uttar Pradesh and said it will form the next government in the state.
"I congratulate people of Firozabad who gave a decisive result. This is the beginning of people's faith in Congress. We are confident that Congress will form a government in UP after the next assembly polls," AICC General Secretary in charge of UP Digvijay Singh told reporters here.
He said the next electoral battle in the state will be between Congress and BSP. "BJP and SP are nowhere. BJP's base has been eroded and SP is nowhere," he said.
The Congress leader, however, downplayed poor performance of the party in the assembly bypolls, in which it won only one seat out of the 11, saying they are not indicative of any trend.
He said in assembly bypolls, ruling party wins and it does not indicate any wave. "May be we were not so attentive as we were in Firozabad," he said.
Babbar, a former MP from Agra who rebelled against the SP and joined the Congress before the Lok Sabha elections in May, secured 3,12,728 votes while Dimple Yadav got 2,27,385 votes and ruling BSP nominee S P Singh Baghel 2,13,571 votes.
Firozabad seat was won by Dimple's husband Akhilesh Yadav in May general elections by a margin of 67, 301 votes against Baghel. Akhilesh, who had also won from Kannauj, vacated Firozabad seat.
While Raj Babbar, who contested the elections raising issue of "pariwarwaad" (dynastic rule), development of the constituency and Rahul Gandhi's work, SP sought votes on emotional plank asking them to elect Mulayam's 'bahu'.
Other than the Muslim and Yadav combination, the SP was also banking on Kalyan Singh to mobilise Lodh caste voters in favour of Dimple.  Kalyan and his son Rajbir had campaigned extensively in Firozabad for Mulayam's daughter-in-law.
Reacting to his victory, Babbar said he had fought the poll on the plank of development and he would keep it in mind all the time.
About her SP rival, he said Dimple is "like my daughter" and he has nothing "harsh" to say against her. 
Handing defeat to Samajwadi Party, the BSP on Tuesday in Lucknow succeeded in making deep inroads into the SP bastion.
The blow was severe for the Samajwadi Party, as it not only lost from its stronghold of Etawah and Bharthana, but was also handed over defeat by the Congress from Firozabad parliamentary constituency.
The party's dismal show in Bharthana, the seat vacated by Mulayam Singh Yadav has put a big question mark on his hold in his home town.
SP also faced major reverses in Haiser Bazar, Powayan and Isauli assembly segments, with the party candidate losing his deposit in Isauli and securing a third spot in Haiser Bazar.
The party had put everything at stake in Firozabad Lok Sabha seat by pitching Dimple Yadav and going all out to seek votes for the "bahu of the constituency."
Firozabad, the city of bangles had been one of the party's bastion primarily  because of its sizeable Yadav population and also being adjacent to Etawah, the home district of Mulayam Singh Yadav.
Samajwadi Party had camped in the constituency and had also pumped in "star power" summoning all the film stars associated with it to challenge the glamour quotient of not only Babbar, but also his Bollywood friends .
 Party's national general secretary Amar Singh asking the electorate to teach a lesson to "traitor" Raj Babbar had a little impact, as the electorate showed a clear shift from SP to Congress in just six months time with Babbar winning hands down by a margin of over 85,000 votes.
The only solace for the party was that it finished on the second spot at five seats of Etawah, Lalitpur, Rari, Padrauna and Bharthana though it has lost an equal number of seats in the process.
Though the party somehow managed to sidestep the Kalyan Singh effect in the Lok Sabha elections held in May this year, the exact effect of taking the former UP Chief Minister in its fold came on surface in the by-elections. PTI