Raj Babbar Wins, Left Loses Kerala, Bengal Byelections, BSP Grabs UP Seats
The Congress scored a spectacular victory in Firozabad Lok Sabha constituency  in Uttar Pradesh, when former Bollywood actor   and party candidate Raj Babbar romped home to victory, defeating Mulayam Singh Yadav's daughter-in-law Dimple Yadav by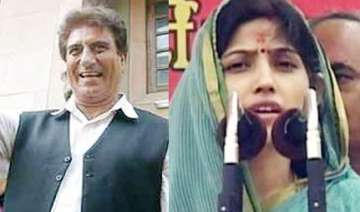 PTI
November 11, 2009 13:09 IST
The Congress scored a spectacular victory in Firozabad Lok Sabha constituency  in Uttar Pradesh, when former Bollywood actor   and party candidate Raj Babbar romped home to victory, defeating Mulayam Singh Yadav's daughter-in-law Dimple Yadav by a margin of 85,343 votes.
The seat was vacated by Mulayam's son Akhilesh Yadav, who had also won from Kannauj, and Firozabad was considered to be the pocketborough of Yadav family.
Elsewhere, the ruling Left Front in West Bengal and Kerala was routed in the assembly byelections at the hands of Trinamool Congress and Congress respectively, even as the ruling BSP secured most of the assembly seats in Uttar Pradesh.
 Of the 31 assembly seats spread over Uttar Pradesh (11), West Bengal (10), Kerala (3) and two each in Assam, Himachal Pradesh and Rajasthan besides one in Chhattisgarh that went to polls on Saturday, Congress won one seat each in Rajasthan and Himachal Pradesh, two in Assam besides the three in Kerala.
In West Bengal, TC-Congress combine bagged eight of the 10 seats,  while Left Front ally Forward Bloc won one and an independent won the Kalchini seat.
Continuing with its impressive performance in the Lok Sabha polls, the Congress-led UDF retained all three assembly seats in Kerala where bypolls were held, defeating ruling LDF.
In UP, ruling BSP candidates won the Powayan, Isauli, Hainsar Bazar, Etawah and Bharthana seats, all held by SP. Mulayam Singh's home strongholds in Etawah and Bharthana fell to BSP.
Congress and BJP won one seat each in Rajasthan. BJP's  Ramesh Meena won the Todabheem seat, while Congress'anti Meena won the Salumber seat.
Congress and BJP won one seat each in Himachal Pradesh, while in Assam, Congress bagged both seats.
In West Bengal, Trinamul Congres made spectacular gains.  TMC's Khagesh Subhash Rai won the Raiganj seat, while the party candidate Bobby Hakim won Alipore seat.  TMC's Sudipto Roy won from Serampore, while Dipendu Adhikari won from Contai South. TMC's Samaresh Das won from Egra, while Gopal Seth won from Bongaon.
Left Front ally Forward Bloc's Ali Imran won from Gualpokhar, while Congress candidate Abu Nasir Khan Choudhury won from Sujapur.
 In Kerala, the LDF suffered a blow in politically sensitive Kannur, where Congress candidate and former CPI-M MP A P Abdullakutty emerged victorious by a margin of 12,000 votes over M V Jayarajan of CPI(M).
Abdullakutty, who represented Kannur twice in the Lok Sabha on a CPI-M ticket, was expelled from the party a few months back following serious differences with the Left leadership, after which he joined the Congress.
Congress candidates Dominic Presentation trounced CPI-M's P N Sinulal in Ernakulam by over 8000 votes, while his colleague A A Shukur retained Alappuzha seat by defeating G Krishaparasad of CPI by 4000 votes.
The by-polls were necessitated by resignation of sitting Congress MLAs K Sudhakaran (Kannur), K V Thomas (Ernakulam) and K C Venugopal (Alappuzha) on getting elected to Lok Sabha.
The results showed that UDF had been able to repeat its Lok Sabha performance when it bagged 16 of the 20 seats in the state.
The current round of elections were seen as a dress rehearsal for the 2011 assembly polls to be preceded by the civic elections in Kerala next year. The outcome of today's bypoll will, however, not have any impact on the stability of the LDF government, which is entering its fourth year.
In Assam, the Congress won both the assembly constituencies -- Dhekiajuli and South Salmara. 
Congress candidate Bimananda Tanti defeated AGP rival Sivacharan Sahu by a huge margin of 21,029 votes in Dhekiajuli constituency.
The winning spree continued in South Salmara constituency where Wajed Ali Choudhury beat AUDF candidate Abdul Rahman Ajmal by 6,553 votes.
The bypolls were necessitated following the election of AUDF chief Badruddin Ajmal (South Salmara MLA) and Dhekiajuli MLA Joseph Toppo (AGP) to Lok Sabha in May.
In Himachal Pradesh, the BJP demolished Congress fort in Rohroo in Shimla district, but lost Jawali in Kangra district to Congress.
BJP's Khushiram Balnatah defeated his Congress rival Manjit Singh Thakur in Rohroo by a margin of 8473 votes.
In Jawali, former state minister and Congress nominee Sujan Singh Pathania trounced saffron party's Chaudhary Baldev Raj by 5249 votes. 
BJP created history in Rohroo by demolishing the Congress hold after 35 years. Rohroo was considered a pocketborough of Union Steel Minister Vibhadra Singh, who represented the constituency for 19 years before moving to Delhi.
In Chhatisgarh, Congress candidate Bhajan Singh Nirankari defeated his BJP rival Jageshwar Sahu  by 1228 votes to win the Vaishali Nagar Assembly seat  PTI.