Taking everyone along is the basic character of India: Rajnath
Lucknow: Terming as "condemnable" any attempt to create hatred on the basis of caste, sect and religion, Union Home Minister Rajnath Singh today said taking everyone along is the basic character of the country."Any attempt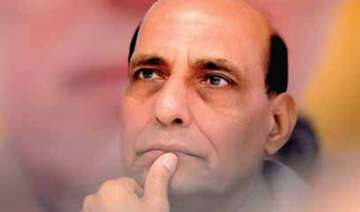 PTI
April 10, 2015 7:32 IST
Lucknow: Terming as "condemnable" any attempt to create hatred on the basis of caste, sect and religion, Union Home Minister Rajnath Singh today said taking everyone along is the basic character of the country.
"Any attempt to create hatred in the society in the name of caste, sect and religion is condemnable," Rajnath said while inaugurating a private school at Bakshi ka Talab here.
"India is the only country in the world where all 72 castes of Muslims and all sects of Christians live. This is because taking everyone along is the basic character of India," he added.
Addressing office bearers of the school, Rajnath said that even though the medium of teaching could be English, but the students passing out from here should be well-versed in Hindi so that they remain connected to their roots.
Stating that modern education was "cutting us from our roots", the union minister said that knowledge of English was good but knowledge of vernacular languages should also be promoted so that people remain connected with their cultural roots.
He said that knowledge of maximum number of languages should be gained but "knowledge of mother tongue was of supreme importance."
"The western culture of "hello", "hi" and "bye" is eroding our roots and we are forgetting to touch the feet of our mother and father. This tendency is dangerous and must be avoided," he said.
He said that to rule the country the British implemented Macaulay's education system which systematically attempted to cut us from our cultural roots, but it should not be allowed to happen in the future.
Addressing the function, Lucknow Mayor Dinesh Sharma said that in an extensive research in the US it was found that folklore told by grandparents was behind India's strength.
He said that the people should take forward the tradition strongly and educate their children in a manner in which they learn to respect elders.