Rajya Sabha stalled over naming MPs
New Delhi, Aug 8: The Rajya Sabha was disrupted Thursday as opposition MPs attacked the government for naming BJP and TDP members in the house bulletin for violation of rules.The Bharatiya Janata Party (BJP) staged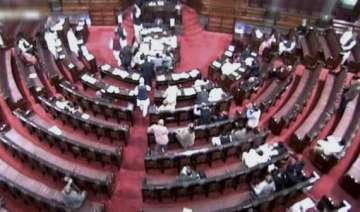 IANS
August 08, 2013 14:08 IST
New Delhi, Aug 8
: The Rajya Sabha was disrupted Thursday as opposition MPs attacked the government for naming BJP and TDP members in the house bulletin for violation of rules.
The Bharatiya Janata Party (BJP) staged a walkout and boycotted the upper house in protest.
The bulletin is a circular which records highlights of the proceedings of the day for the two houses. The Rajya Sabha bulletin of Wednesday named 20 BJP MPs and two of TDP for violating the rules.
As soon as the upper house met Thursday, BJP leader M. Venkaiah Naidu raised the issue.
He accused the government of bias as Congress MPs who allegedly violated the rules were not named.
"Why this discrimination? What is the rule? Naming of members of one party and showing discrimination (against others) is not acceptable," he said.
His colleague Arun Jaitley also raised the question.
Chairman M. Hamid Ansari said the issue can be discussed in his chamber, to which the opposition did not agree. BJP MPs then walked out.
AIADMK leader V. Maitreyan also pointed out that Congress MP Govardhan Reddy quarrelled with the two TDP members near the chairman's podium, and Renuka Chowdhary went to stop him. Why was he not named, Maitreyan asked.
Shiv Sena and AIADMK MPs then trooped out of the house.
The TDP members continued their protest despite repeated pleas from the chair. Amid the din, the house was adjourned till noon.
When the upper house reassembled, the BJP kept boycotting the house. The opposition members raised slogans asking the government not to gag them.
As the din continued, Rajya Sabha was adjourned till 12.30 p.m. and then till 2 p.m.
The bulletin says: "Today (Aug 7), the Chair adjourned the house due to gross disorderly conduct in violation of rules and etiquettes of Rajya Sabha by the following Members who entered the 'Well' and persistently and willfully obstructed the proceedings."
The BJP MPs named in the list are Jagat Prakash Nadda, Parshottam Khodabhai Rupala, Avinash Rai Khanna, Smriti Zubin Irani, Dharmendra Pradhan, V.P. Singh Badnore, Om Prakash Mathur, Bharatsinh Prabhatsinh Parmar, Bhupender Yadav, Natuji Halaji Thakor, Dilipbhai Pandya, Bhushanlal Jangde, Prabhakar Kore, Tarun Vijay, Faggan Singh Kulaste, Rangasayee Ramakrishna, Nand Kumar Sai, Maya Singh, Mansukh L. Mandaviya and Shankarbhai N. Vegad.