'Rajya Swastya Bima Yojana' should cover eligible persons: Raje
Jaipur: Rajasthan Chief Minister Vasundhara Raje today asked officials concerned to ensure that benefits of the 'Rajya Swastya Bima Yojana'(RSBY) reach eligible persons.The Chief Minister reviewed preparations of the scheme under which an insurance of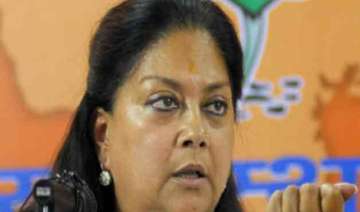 PTI
January 31, 2015 20:29 IST
Jaipur: Rajasthan Chief Minister Vasundhara Raje today asked officials concerned to ensure that benefits of the 'Rajya Swastya Bima Yojana'(RSBY) reach eligible persons.
The Chief Minister reviewed preparations of the scheme under which an insurance of upto Rs 30,000 will be given for normal ailment and a cover of upto Rs 3 lakhs will be provided for identified critical ailments.
Raje asked officials to ensure that only eligible persons be covered under the scheme which will be linked with Bhamashah card - another scheme of the state government, a statement said.
The scheme will only cater to the residents of the state.
"It should be properly monitored whether private hospitals which have been allotted land free of cost or on concessional rates were treating BPL patients.
"It should be ensured that whether these hospitals were complying with the conditions of the government," she said.  
Medical and Health department officials said that a software was being prepared to collect data of the hospitals which are not complying the conditions.  
Free treatment to BPL patients will be included in the land allotment conditions, they said.
Senior officials including Chief Secretary CS Rajan, Principal Secretary (Medical) Mukesh Sharma, Principal Secretary (Finance) PS Mehra, Secretary (Planning Akhil Arora) NRHM Director Naveen Jain and NRHM Additional Director Neeraj K Pawan were present at the meeting.