Ram Kripal a 'friend', welcome to join LJP, NDA: Paswan
New Delhi: LJP chief Ram Vilas Paswan today held out an olive branch to Ram Kripal Yadav, the leader of the Lalu Prasad Yadav-led RJD, on a day when the latter resigned from all party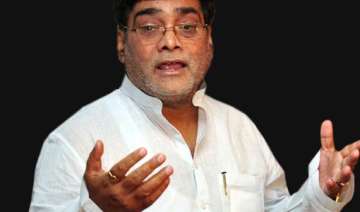 PTI
March 08, 2014 17:58 IST
New Delhi:
LJP chief Ram Vilas Paswan today held out an olive branch to Ram Kripal Yadav, the leader of the Lalu Prasad Yadav-led RJD, on a day when the latter resigned from all party posts over an issue involving Lok Sabha tickets.
Paswan, whose party recently allied with BJP for the upcoming parliamentary polls after falling out with RJD and Congress, hailed Ram Kripal as a "friend" and also said he was "welcome" to join LJP or NDA if he so chooses.
"Ram Kripal ji a very good leader. He was a very senior leader of RJD. If a person like him was humiliated there, you can well imagine what happened to LJP. He was like a family member (for Lalu Prasad). We were just a party," Paswan said at a press conference here.
Talking to reporters, he claimed his party was given a raw deal by RJD in particular and also by Congress, which had forced him to forge an alliance with BJP.
Lalu Prasad's party was not willing to accommodate LJP in the secular alliance, he added.