Ramlila Maidan gears up to host Modi on Jan 10
New Delhi: Preparations are almost complete at the Ramlila Maidan for Prime Minister Narendra Modi's rally on January 10 where some major announcements are likely to be made by him.Both North Delhi Municipal Corporation and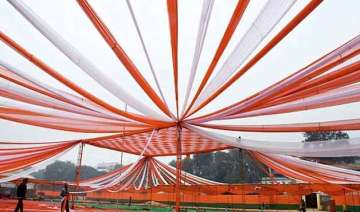 PTI
January 08, 2015 23:39 IST
New Delhi: Preparations are almost complete at the Ramlila Maidan for Prime Minister Narendra Modi's rally on January 10 where some major announcements are likely to be made by him.
Both North Delhi Municipal Corporation and Delhi BJP unit are working in tandem to give finishing touches to the arrangements as a "massive crowd" is expected at the venue.  "The preparation on part of the NDMC and the state unit are almost complete. The stage from where the Prime Minister will address the crowd has been completed," BJP Councillor and Chairman, Standing Committee of NDMC, Mohan Bhardwaj told PTI.
"Temporary toilet facilities have been created apart from mobile toilet units which will be stationed on the day of the rally. The venue has been divided into 24 blocks and each block will have a huge LED screen apart from those near the stage," he said.
He said, the entire route from the 7 Race Course to the Maidan is being bedecked with flags and festoons.  "Chief ministers of the states where BJP recently emerged victorious in recent state polls have been invited and we are also looking into arrangements at their respective places, where they would be hosted in the capital," Bhardwaj said.  BJP emerged victorious in state Assembly polls in Haryana, Maharashtra and Jharkhand and formed government in all three states.
A large number of central ministers including External Affairs Minister Sushma Swaraj, Home Minister Rajnath Singh and party chief Amit Shah will be attending the event.  He said that people from across the country are expected to attend the rally and therefore, the sanitation and other arrangements were being looked into and "sanitation workers and other staff are busy preparing the venue".  "All arrangements are being as per the Special Protection Group (SPG) specifications," he added.
With the impending Delhi polls, Modi's rally has assumed greater significance and senior BJP leader Vijay Goel in a press conference two days ago had said that "some major announcements could be made by the Centre from the venue".  The reunification of the trifurcated Municipal Corporation of Delhi (MCD) was on the BJP poll manifesto and could be one such decision.
Among other preparations, NDMC's Director (Press & Information) Yogendra Singh Mann said, "The ground levelling work is almost over. We are painting the fences and grills and sanitation facilities are being arranged."