Rao Was Denied Ticket In 1998 Because Of Babri Demolition Anger, Says Congress
Congress on Thursday  said the late Prime Minister P V Narasimha Rao was denied party ticket in the 1998 Lok Sabha polls just to keep public anger in control in the wake of the demolition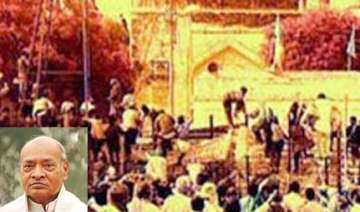 PTI
November 26, 2009 20:24 IST
Congress on Thursday  said the late Prime Minister P V Narasimha Rao was denied party ticket in the 1998 Lok Sabha polls just to keep public anger in control in the wake of the demolition of Babri Masjid.
"There was perceptible anger against the then government. (The then Congress President Sitaram) Kesri publicly apologised for it (failure to protect Babri Masjid)," party Shakeel Ahmed told reporters in New Delhi.
At the same time, he made it clear that the Liberhan Commission had not directly or indirectly named Rao in the demolition.
Ahmed said there was a perception of "belated action" on part of the central government headed by P V Narsimha Rao when Babri Masjid was demolished in 1992.
Kesri had publicly declared before the Lok Sabha elections in 1998 that the party has denied ticket to Rao for his failure to protect the Babri Masjid.
"Liberhan Commission has not accused Rao or found him responsible directly or indirectly for the demolition and Congress has no reason to disagree with the Commission's findings," Ahmed said.
He at the same time hastened to add "what Rao did during his Prime Ministership, it is for the people to judge".
Asked why Congress had denied ticket to Rao in 1998, the Congress leader said, "It is my personal opinion that he was denied ticket just to keep public anger in control."
To a query about the allegations of CPI-M regarding Rao's role in the demolition, the Congress leader said, "We don't agree with CPI-M's any accusation of bias against the judicial commission findings." PTI