Rare pictures of Rabri Devi
New Delhi: The three time chief minister of Bihar and wife of the supremo of Rashtriya Janata Dal , Rabri Devi has been an epitome of strength and support for her husband and her family.She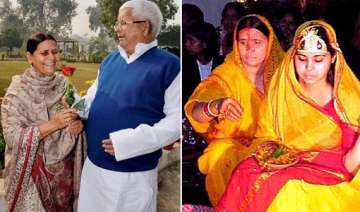 India TV News Desk
November 21, 2013 6:57 IST
New Delhi
: The three time chief minister of Bihar and wife of the supremo of Rashtriya Janata Dal , Rabri Devi has been an epitome of strength and support for her husband and her family.
She stood by her husband Lalu Prasad Yadav through thick and thin. A member of  Bihar Vidhan Parishad, Rabri could barely write or speak Hindi. Lalu appointed her a teacher who taught her to sign.
Rabri Devi was appointed as the Chief Minister of Bihar after Lalu's alleged involvement in the fodder scam which till date remains the most shocking event in the history of Indian polity.
Rabri was a typical housewife and politics was never her cup of tea.  Therefore her appointment as the chief minister of Bihar sent  shockwaves across the nation. It was believed that Rabri was a mere pawn and the government was still run by Lalu from jail .
Over the years, Rabri Devi has learnt the art of addressing political rallies, and she often makes stinging remarks against Bihar chief minister Nitish Kumar, her family's political foe.
Let's have a look at some of the interesting photographs of Rabri Devi with her family: