Read third list of Congress candidates, Azharuddin from Rajasthan, no ticket for Kalmadi
New Delhi: The Congress central election committee today released its third list of candidates with former Team India captain Mohammed Azharuddin shifted from Moradabad in UP to Tonk-Sawai Madhopur in Rajasthan. Commonwealth Games scam tainted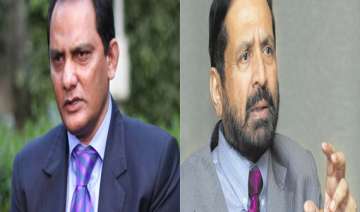 India TV News Desk
March 18, 2014 22:45 IST
New Delhi:
The Congress central election committee today released its third list of candidates with former Team India captain Mohammed Azharuddin shifted from Moradabad in UP to Tonk-Sawai Madhopur in Rajasthan.
Commonwealth Games scam tainted Suresh Kalmadi failed to get the party ticket from Pune, with the selection going in favour of Vishwajeet Kadam.
The party failed to zero in on its candidate for Varanasi who would take on BJP prime ministerial candidate Narendra Modi.
No decision could be taken on two key Delhi seats - South Delhi and West Delhi.
Former Chhattisgarh chief minister Ajit Jogi will contest from Mahasamund.
Following is the list of Congress candidates announced today:
Arunachal Pradesh
Arunachal West : Takam Sanjoy
Arunachal East : Ninong Ering
Chhattisgarh
Mahasamund : Ajit Jogi
Kanker ST : Smt Phoolo Devi Netam
Dama & Diu : Ketan Patel
Delhi
Chandni Chowk  Kapil Sibal
North East Delhi  : Jai Prakash Agrawal
East Delhi: Sandeep Dikshit
New Delhi: Ajay Maken
North West Delhi SC : Smt Krishna Tirath
Goa
North Goa : Ravi Naik
South Goa Aleixo Reginaldo Lourenco
Gujarat
Kachch SC : Dineshbhai Parmar
Banaskantha : Joitabhai Kasnabhai Patel
Mehsana : Jeevabhai Patel
Ahmedabad West : Ishwar Makwana
Junagadh: Jasu Barad
Kheda : Dinshaw Patel
Panchamahal : Paranjay Adityasinh Parmar
Vadodara : Narendra Kumar Rawat
Haryana :
Ambala SC : Raj Kumar Valmiki
Sirsa SC : Ashok Tanwar
Gurgaon : Rao Dharampal
Himachal Pradesh : Hamirpur : Rajinder Singh