Right To Recall Should Be Introduced, Says Former Speaker Somnath Chatterjee
The debate over right to recall of public representatives has returned to political centrestage with former Lok Sabha Speaker Somnath Chatterjee expressing shock over the assault of an MLA in Maharashtra Assembly. "Right to Recall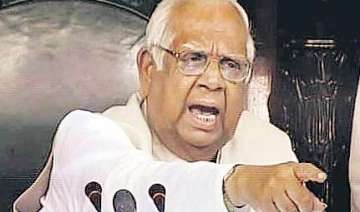 PTI
November 10, 2009 16:41 IST
The debate over right to recall of public representatives has returned to political centrestage with former Lok Sabha Speaker Somnath Chatterjee expressing shock over the assault of an MLA in Maharashtra Assembly.
"Right to Recall should be introduced in the country," Chatterjee said, noting that these types of incidents in Assemblies and Parliament could be tackled by giving people right to recall their representatives.
Asked whether this kind of suspension of four MNS members for four years on the first day of the session was unprecedented, he told PTI it could be possible, maintaining that the situation warranted "strict action".
"I don't want to go into the judgement of the members of the legislatures. I don't question their judgement," he said, expressing concern over the incident when MNS members allegedly assaulted SP MLA Abu Asim Azmi for taking oath in Hindi instead of Marathi.
The former speaker felt that people should "boycott" this type of parties and representatives as their actions were detrimental to democracy. "All political parties should think what will be future of India if such things happen", Chatterjee remarked.
He said he has been advocating right to recall for long but so far the issue has got no takers.
Senior Congress MP V Kishore Chandra Deo said the suspension of four MNS legislators was "fully justified" and the sequel of yesterday's incident was connected with other incidents happening in the state.
"This deserves stringent punishment," Deo, who in the last Lok Sabha headed the Committee to go into the misconduct of members, said. PTI