RJD, LJP Demand Modi's Removal
Chief opposition RJD-LJP front and Congress in Bihar on Saturday  called for immediate resignation of Deputy Chief Minister S K Modi in the wake of vigilance probe against him.    "Modi should resign on moral grounds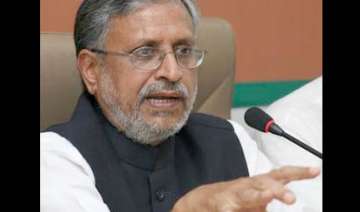 PTI
November 14, 2009 20:17 IST
Chief opposition RJD-LJP front and Congress in Bihar on Saturday  called for immediate resignation of Deputy Chief Minister S K Modi in the wake of vigilance probe against him.   
"Modi should resign on moral grounds and ensure a fair probe into the allegations against him," state RJD president Abdul Bari Siddiqui and spokesman Shakeel Ahmed Khan said. 
State LJP president Pashupati Kumar Paras urged Governor D.Konwar to ask Modi to step down if the latter failed to resign on his own. 
"A fair, honest and impartial investigation by vigilance officials won't be expedited as long as Modi holds the office of the deputy chief minister," he said. 
Ruling JD(U) activist Kanchan Bala too joined the opposition chorus demanding Modi's resignation, a stand disapproved by the party spokesman Shivanand Tiwari.  
Bihar PCC president Anil Sharma also made the same demand. 
"Even the role of Chief Minister Nitish Kumar into the allegations about loot of funds should be probed," Sharma added. 
 A local court had yesterday ordered a probe by the state vigilance bureau into a complaint by advocate Sudhir Oja against Modi about alleged irregularities in purchase of medicines for cattle worth Rs 8 crore in 2008, when he was in-charge of animal resources department. PTI