Robert Vadra land deal rocks Parliament, BJP demands SIT probe under SC supervision
New Delhi: BJP and other opposition members today raised the issue of land deals relating to UPA chairperson Sonia Gandhi's son-in-law Robert Vadra in both House of Parliament, and demanded special investigation team probe under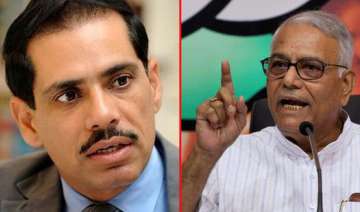 India TV News Desk
August 13, 2013 17:46 IST
New Delhi
: BJP and other opposition members today raised the issue of land deals relating to UPA chairperson Sonia Gandhi's son-in-law Robert Vadra in both House of Parliament, and demanded special investigation team probe under Supreme Court supervision .
Both the houses were adjourned till afternoon because of the uproar.
The alleged dubious land deals of Robert Vadra paralysed proceedings in Parliament  with Lok Sabha and Rajya Sabha witnessing two adjournments following uproar by BJP.
'Congress ka haath, damaad ke saath' (hand of Congress is with the son-in-law) chanted BJP members, seeking to draw the attention on the Vadra issue in the Lok Sabha.
This was met with counter slogans 'Congress ka haath, janata ke saath, garib ke saath' (hand of Congress is with the people and the poor) by ruling party members.
Taking an obvious dig at Vadra, Yashwant Sinha (BJP) said, "Though there are several business schools which teach models of making money, there is one highly connected person who did not go to any such school but has given a model where no investment is made but windfall gains of thousands of crores are made."
The Rajya Sabha also witnessed similar scenes, with the main opposition BJP forcing adjournment of the House till noon on the same issue, minutes after it assembled for the day.
BJP members shouted slogans which were countered by those from Congress.
As the din continued unabated, Chairman Hamid Ansari's remarks whether members wished the House to become a "federation of anarchists" added fuel to the fire.
With BJP members shouting slogans seeking probe and reply from the government on the Vadra issue, members from the treasury benches too were on their feet.
"Every single rule in the rule book, every single etiquette is being violated...If the Hon'ble members wish the House to become a federation of anarchists, then it is a different matter," Ansari remarked, amid strong protests from BJP members. He then adjourned the House till noon.
Uproarious scenes continued after the Upper House reassembled, with Rajiv Pratap Rudy (BJP) asking the Chair for his view on a Zero Hour notice to raise the Vadra issue.
"There is scam that has taken place. It has rocked the nation. It involves somebody very important," Rudy said, with his party MPs rising in support.
Soon Congress members were on their feet raising counter slogans, forcing adjournment of the House again till 2 PM.
Lok Sabha witnessed uproar during Question Hour with opposition targeting the government on several issues including violence in Kishtwar, solar scam in Kerala as also the Vadra issue.
Congress members protested against BJP leader Yashwant Sinha's remarks against Vadra, with Sanjay Nirupam walking into the Well to protest against the charge.
Parliamentary Affairs Minister Kamal Nath and his deputy Rajiv Shukla, both seated in the front row, were on their feet. BJP members countered them from their seats.
With the House in disorder, Speaker Meira Kumar adjourned it till noon. Though there was pandemonium on several matters, the Vadra issue led to its adjournment till noon.
When the House reassembled, the issue dominated with shouts and countershouts among opposition and ruling party members.
Senior BJP leader Yashwant Sinha rejected Congress' defence that it was a state issue relating  to Haryana government, and said a PSU nationalised bank was involved.
Later, Congress leaders told reporters outside Parliament that if the BJP insisted on debating Vadra's land deals, they will also raise issues relating  to allotment of lands in Uttarakhand, Bhopal and Himachal Pradesh to L K Advani's daughter Pratibha Advani, and land mining controversies during  BJP rule in Karnataka.
Congress members shouted slogans in Rajya Sabha demanding probe into allotment of lands to a particular industrial group by Gujarat government.
The Congress today issued a whip to all its leaders not to speak on Robert Vadra issue and let the party spokespersons speak.
BSP supremo Mayawati came to the rescue of Congress and told reporters that Sonia Gandhi should not be held responsible if anybody from her family has committed  mistakes.
"We do not agree with the charges levelled against Sonia Gandhi", she said.
Earlier, upping the ante on Robert Vadra's controversial land deals in Haryana, BJP today termed it as a "serious case of fraud with a nationalised bank".
After a meeting of BJP's Parliamentary Party, Deputy Leader of Opposition in Rajya Sabha Ravishankar Prasad rejected Congress contention that the matter was state related.
"It is not a state subject. This is an issue of a serious bank fraud. It is a case of enrichment through the use of authority by collusion, of a fraudulent bank document and banking documents' manipulation becomes clearly a national subject apart from the larger issue of corruption.
"How the documents of a nationalised bank were used for land transfer. How the entire government machinery was misused to benefit a person related to an important personality. We will like to raise it and will demand that we are allowed to raise the issue in both Houses and that Government must promise a fair probe," Prasad told reporters.