RSS seeks clarity from BJP on Varanasi seat issue
Bangalore: RSS today said it is worried about reported Varanasi seat row between BJP Prime Ministerial candidate Narendra Modi and senior leader Murali Manohar Joshi, but was confident that the party would solve it."We are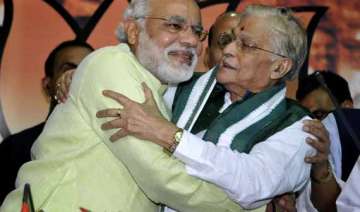 PTI
March 09, 2014 16:36 IST
Bangalore:
RSS today said it is worried about reported Varanasi seat row between BJP Prime Ministerial candidate Narendra Modi and senior leader Murali Manohar Joshi, but was confident that the party would solve it.
"We are worried and also not worried...We feel they (BJP) are experienced enough as we had seen on earlier occasions. They are capable. They will solve the problem," RSS General Secretary Suresh Bhaiyaji Joshi told reporters on the concluding day of the three-day meet of its top policy making body, Akhil Bharatiya Pratinidhi Sabha, here.
The reported controversy over who will contest from Varanasi Lok Sabha constituency had found its echo at BJP's Central Election Committee meeting yesterday, with heated discussions taking place on the issue.
Sources said some members sought clarity as to whether Joshi would be moved from Varanasi and Modi would contest from there. Among those who are believed to have been keen to make the point are Joshi himself as well as Sushma Swaraj.
Joshi said, "These things are decided by political party. If a person wants to express his views, there is nothing wrong in it."