Assam Congress MLA Rumi Nath arrested in car theft case
Guwahati:  Controversial Congress MLA Rumi Nath was today arrested in connection with her alleged links with a pan-India car-theft racket whose kingpin was nabbed earlier this month.Her arrest came in the wake of allegations that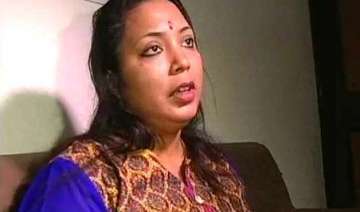 PTI
April 14, 2015 19:58 IST
Guwahati:  Controversial Congress MLA Rumi Nath was today arrested in connection with her alleged links with a pan-India car-theft racket whose kingpin was nabbed earlier this month.
Her arrest came in the wake of allegations that police was not taking Nath into custody despite registering two cases against her due to pressure from the ruling party. But Police Commissioner Jyotirmoy Chakravarty had yesterday denied any political pressure.
The MLA from Barkhola in Cachar district was arrested under IPC Sections 120B (criminal conspiracy), 212 (harbouring offender), 420 (cheating) and 468 (forgery), Chakravarty told PTI.
"We arrested her around 7 AM from the MLA Hostel campus.  After getting her custody, we brought her to Dispur police station," Assistant Commissioner of Police (East) Suprotive Lal Barua said.
She was produced before the chief judicial magistrate's court which remanded her in a day's police custody. 
Earlier, the Gauhati High Court had rejected two interim anticipatory bail applications of Nath in connection with a case registered at Dispur police station and another at Azara police station.
She filed anticipatory bail pleas on April 9 following the arrest of her estranged second husband Jacky Zakir.  Yesterday, the Congress MLA had appeared before the media amid reports that she was absconding and said "If I am proved guilty, I am ready to go to prison."
Zakir was arrested on April 8 from his house in Badarpur in Karimganj district, while Nath's Personal Security Officer Bedabrata Barpatra Gohain was arrested from the Special Branch headquarters here on the same day.
During investigations, it was found that the racket kingpin Anil Chauhan was issued Assam Assembly car passes on the recommendation of Nath.
Following this, the Assembly Secretariat issued a notice to Nath seeking explanation. In her response, she said she signed the car pass application form of Chauhan's wife who is a Congress worker.
"I have no connection with Chauhan, but only know his wife who was also a Congress worker. This is a political conspiracy to defame me... I have full faith in the law of the land and will cooperate with the police at every step," she had said yesterday.
State Congress chief Anjan Dutta too showcaused her for her alleged involvement with Chauhan.