SAD-BJP alliance to finalise seat sharing for Delhi polls
Bondli (Ludhiana): Punjab Chief Minister Parkash Singh Badal today said that both SAD and its ally BJP will soon finalise the seat sharing arrangement for the next month's Assembly polls in Delhi.The alliance between both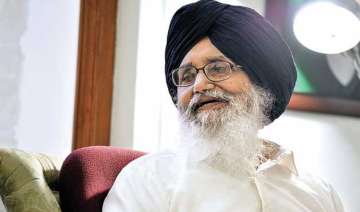 PTI
January 15, 2015 18:12 IST
Bondli (Ludhiana): Punjab Chief Minister Parkash Singh Badal today said that both SAD and its ally BJP will soon finalise the seat sharing arrangement for the next month's Assembly polls in Delhi.
The alliance between both the partners was not only confined to seat and power sharing but it was meant for ensuring overall development of the country on one hand and promotion of brotherhood and communal harmony on the other, he said.
"The SAD-BJP alliance is in the interest of the nation and should not be merely construed as an arrangement of sharing power," Badal told reporters here on the sidelines of a function.
Badal said that the top brass of both the parties would soon deliberate upon this issue and finalise the seat sharing arrangement.
The Assembly elections in Delhi will be held on February 7. Both SAD and BJP had jointly contested the previous Assembly polls in Delhi.
Commenting on reports that Himachal Pradesh was worried that drugs from Punjab may make its way into the hill state, Badal said that "not even a single gram of drug is produced in our state, so there is hardly any possibility of its transportation to other states."
However, Badal said that in case the government of Himachal Pradesh has any apprehension regarding it both the states could form joint patrolling agencies to curb the menace.
On reports that Himachal Pradesh government was contemplating to install scanners and other sophisticated equipment along its borders with Punjab for stricter vigil, he said that they were free to take any such step.
The Chief Minister further said that the need of the hour was to cut the supply line of drugs being smuggled from across the international border so that this menace could be completely eradicated from the state.
Describing BSF personnel as "brave sons of country protecting our borders", Badal said that they must keep a strict vigil to check inflow of drugs from across the border.
Expressing grave concern over unemployment in the state, the Chief Minister said that the Punjab government was fully aware of the problem and the only solution to tackle it was to impart skill training in different fields to enable the youth to earn their livelihood.
Replying to another query, the Chief Minister said that the state government has already filed an application in the Supreme Court for seeking permission to consider and decide applications of the life convicts seeking remissions and pre mature release.