If Asaduddin Owaisi can't accept Hindu identity, he must move to Pakistan: BJP leader Sadhvi Prachi
New Delhi: MIM chief Asaduddin Owaisi had created a controversy a few days ago by saying that every child is born as a Muslim but his parents convert him to other religions.Now BJP leader Sadhvi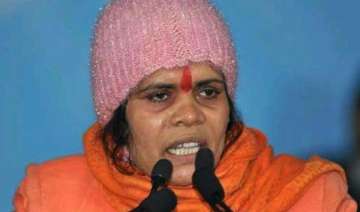 India TV News Desk
January 13, 2015 18:52 IST
New Delhi: MIM chief Asaduddin Owaisi had created a controversy a few days ago by saying that every child is born as a Muslim but his parents convert him to other religions.
Now BJP leader Sadhvi Prachi has joined issue with the MIM chief and has said that Owaisi should either accept his Hindu identity or move to Pakistan.
"Every child born in India is a Hindu. Owaisi's father was born in India, and is also a Hindu. If Owaisi cannot accept Hindu identity, he must move to Pakistan," said Sadhvi Prachi.
In his controversial remarks, Hyderabad MP Asaduddin Owaisi had said "Every child is born as a Muslim but society imposes other religions on children. Islam is the real home of all religions. The real home coming will be when people of other religions embrace Islam."