Samajwadi Party MP more concerned about saving relatives of fellow MP in Nepal
New Delhi: The death toll in Nepal's devastating Earthquake is constantly on a rise as over 3,700 are said to be dead and several injured but  Samajwadi Party MP Ram Gopal Yadav wants special treatment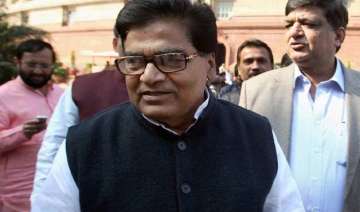 India TV News Desk
April 27, 2015 18:48 IST
New Delhi: The death toll in Nepal's devastating Earthquake is constantly on a rise as over 3,700 are said to be dead and several injured but  Samajwadi Party MP Ram Gopal Yadav wants special treatment for the relatives of his fellow party MP Naresh Agarwal who are stuck in Kathmandu.
"Even though the government is sensitive to the tragedy, the Indian Embassy in Kathmandu has not shown equal sensitivity," Yadav said expressing concern and urgency only for the MP's relatives to be saved.
The Samajwadi Party MP further added that he had already spoken to External Affairs Minister Sushma Swaraj and phoned the Indian Embassy in Kathmandu but there was no positive response on the same.
Stating that the Centre has been quick in extending support to Nepal, he emphasized that his Uttar Pradesh government too has deployed buses in border areas to get back stranded people and transport food, medicines and relief supplies.
While the House mourned the deaths and loss of property caused by the calamity, Telecom and IT Minister Ravi Shankar Prasad Ravi Shankar Prasad urged people not spread rumours about further happenings. 
"Several comments on social media that earthquake is going to happen at this hour are dropping in. We should adopt restraint and not spread rumours on social media and I also appeal to people not to pay attention to such rumours being spread on social media," he said.