Satish Upadhyay challenges Kejriwal on electricity meter charges
New Delhi: Delhi BJP chief Satish Upadhyay today strongly rejected AAP leader Arvind Kejriwal's allegations linking him to certain firms which were installing and replacing meters for BSES discoms in the city and challenged the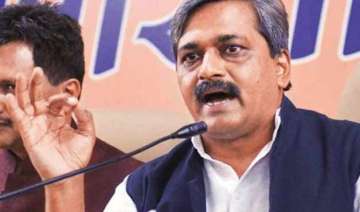 PTI
January 14, 2015 21:59 IST
New Delhi: Delhi BJP chief Satish Upadhyay today strongly rejected AAP leader Arvind Kejriwal's allegations linking him to certain firms which were installing and replacing meters for BSES discoms in the city and challenged the former chief minister to substantiate his claims or quit politics.
"Kejriwal is running a factory of lies. He is trying to damage me and BJP ahead of Delhi Assembly election. The allegations are totally baseless," Upadhyay told a press conference here.
The BJP leader, who was also appointed the party's Election Committee chief, asked Kejriwal to provide proof of his allegations within 24 hours or face a criminal defamation case.
Earlier, Kejriwal alleged a nexus between Upadhyay and certain power distribution companies, saying firms owned by him were installing and replacing meters for the discoms in the city.
"From 2005 to March 2012, my firm used to do different works for BSES and other companies which include installations of meters and towers. But my firm didn't supply meters to any power distribution company.
Besides, I was not involved in any sale or purchase of electricity meters," he said.  "Out of six companies he (Kejriwal) is talking about, two companies do not exist anywhere and his allegation is totally baseless. There has been no transaction of even Rs 1 by these two companies," he said.
Upadhyay said being an entrepreneur, he had to work with different companies to earn a livelihood, "but it doesn't mean that I did something wrong".
The BJP leader said he has given a 24-hour ultimatum to Kejriwal to prove his allegations.
"If Kejriwal fails to prove, I will file a criminal defamation case against him."
If Kejriwal's allegations are found to be true, I will quit politics. AAP chief is misleading the people of Delhi as well as media on this matter," he said.  Delhi BJP General Secretary Ashish Sood, against whom Kejriwal had levelled same allegations, also accused the AAP leader of misleading people of Delhi. "We don't supply electricity meters to any power distribution company, we just install meters, towers."