SC provides relief to Mayawati
New Delhi, Aug 8: In a relief to BSP chief Mayawati, the Supreme Court today declined to review its order quashing disproportionate assets case against her.  Disposing of a review petition against the quashing of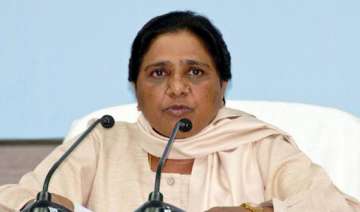 PTI
August 08, 2013 19:34 IST
New Delhi, Aug 8:
In a relief to BSP chief Mayawati, the Supreme Court today declined to review its order quashing disproportionate assets case against her. 
Disposing of a review petition against the quashing of an FIR against Mayawati relating to DA case, a bench of Chief Justice P Sathasivam and Justice Deepak Misra clarified that its judgement of July last year was only related to Taj Corridor case.
"It is also made clear that we have not gone into any other aspect relating to the claim of the CBI, intervener or the stand of Mayawati except the directions relating to Taj Heritage Corridor Project which was the only lis(dispute) before us," the bench said.
The court had quashed a nine-year-long disproportionate assets case against her on the ground the agency proceeded against her without properly understanding its orders which were confined to Taj Corridor case relating to the release of Rs 17 crore by UP government allegedly without sanction.  
In the very beginning of its last year's judgement, the bench had made it clear that it was just deciding whether DA case lodged by the CBI is beyond the scope of the directions passed by the apex court in 2003 in Taj Corridor case and it did not go into the merit of allegations made by agency against the former Chief Minister.
Passing the verdict today on the review petition, which was heard in open court, the bench reiterated that its last year judgement was confined to Taj Corridor case and FIR lodged by the agency on the order of apex court which did not directed to proceed against her in DA case.  
Reacting to the judgement, Mayawati said she was happy that the Supreme Court has provided justice to her. Her counsel Satish Chandra Mishra said with today's order, the "illegal" CBI FIR on DA case attains a closure.