SC tells Congress MP Adhir Ranjan Chowdhury to have some dignity and vacate govt bungalow
New Delhi: Supreme Court today rejected the plea of Congress lawmaker Adhir Ranjan Chowdhury against the Delhi High Court order asking him to vacate his government bungalow.The apex court told Chowdhury to ''Have Some Dignity''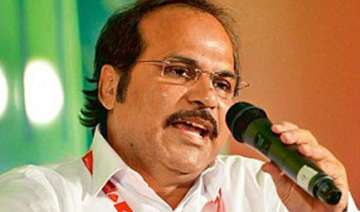 India TV News Desk
February 05, 2016 13:55 IST
New Delhi: Supreme Court today rejected the plea of Congress lawmaker Adhir Ranjan Chowdhury against the Delhi High Court order asking him to vacate his government bungalow.
The apex court told Chowdhury to ''Have Some Dignity'' and vacate the premises.
Chowdhury had said he was forcibly evicted from his bungalow earlier this week. But the government justified the move saying he had overstayed.
According to the Directorate of Estate, Mr Chowdhury was overstaying at the 14, New Moti Bagh residence for 19 months since the cancellation of his allotment on June 27, 2014 by the Urban Development Ministry after he had ceased to be a Minister in the Union Council of Ministers.
According to the government officials, Chowdhury has been warned multiple times to vacate the house but he ignored the warnings.
Earlier, Congress lawmaker sought two or three days' time to shift to the new, smaller accommodation allotted to him on Humayun Road in New Delhi after the Delhi High Court refused to stay his eviction from his ministerial bungalow at New Moti Bagh.
Authorities had started the eviction process and disconnected the water and electricity connection to the New Moti Bagh bungalow.
Chowdhury called the eviction a political vendetta by the BJP. Chowdhury alleged that the authorities snapped the electrical connection to his bungalow without informing him even when he was there. He claimed that the new accommodation given to him was "not in habitable condition".
Mr Chowdhury, a former UPA minister, moved court against the eviction order and attempted to get it stayed by Delhi High Court which, however, did not interfere with the disconnection of utilities and ordered status quo till February 3 morning when it was going to hear the matter.
"Since his petition has been dismissed, he has written to us seeking two-three days' time for shifting his belongings to his new house on Humayun Road," said a senior Urban Development Ministry official.
The Lok Sabha lawmaker from Murshidabad, who is also the chief of West Bengal Congress Committee, has been allotted a type-VI bungalow at C-1/4 Humayun Road.
As a Member of Lok Sabha, Mr Chowdhury is entitled to a Type- VI accommodation. He was allotted an alternative accommodation at C-1/99, Moti Bagh, by the House Committee of Lok Sabha in January, 2015. However, the new allotment was not acceptable to him.
Subsequently, he was allotted an independent bungalow at C177, Moti Bagh (Type-6B) on June 1, 2015, but that too was not accepted by the lawmaker.
Mr Chowdhury was again allotted a bungalow at C-1/4, Humayun Road, on November 3, 2015 and, after inspection and certification by CPWD, was requested on December 23, 2015, to vacate the Type-8 bungalow and move into the Humayun Road bungalow within 15 days to avoid accumulation of damages and contempt of court.
A reminder was also issued to NDMC for disconnection of water and electricity connection to the New Moti Bagh house.
Mr Chowdhury moved high court against eviction on January 29 this year and the same was dismissed by the High Court on February 1, 2016.
Mr Chowdhury yesterday filed an LPA (Letter Patents Appeal) before another bench against the order of a single bench which was dismissed today.
(With inputs from PTI)