Sharmishta Mukherjee continues her campagin
New Delhi: Sharmistha Mukherjee, a Congress candidate who is contesting from Greater Kailash seat in the February 7 Assembly polls, today said she will initiate community development programs with resident welfare associations and NGOs in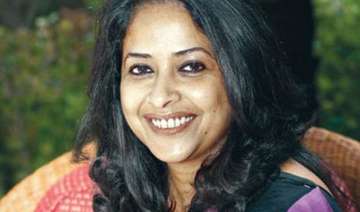 PTI
January 20, 2015 23:43 IST
New Delhi: Sharmistha Mukherjee, a Congress candidate who is contesting from Greater Kailash seat in the February 7 Assembly polls, today said she will initiate community development programs with resident welfare associations and NGOs in the constituency.  
Continuing her campaign, Mukherjee also promised to ensure better lighting, streamline the parking issues, sanitation and garbage segregation in collaboration with RWAs.  Addressing the people, Sharmistha emphasized on the setting up of a pilot project on localized garbage disposal in the constituency.
Mukherjee, daughter of President Pranab Mukherjee, had a meeting with people at Khirki Village extension and appealed them to vote for her for making better representation, development and facilities for the constituency.