I really want to expose AAP for what it is: Shazia Ilmi
New Delhi: Amid reports that Shazia Ilmi may join BJP soon, the former AAP leader today confirmed that she will be campaigning against Aam Aadmi Party in upcoming Delhi Assembly polls and that  it's her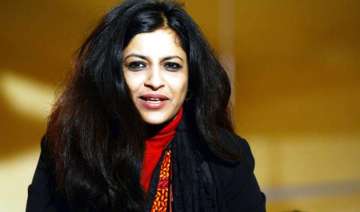 India TV News Desk
January 16, 2015 16:24 IST
New Delhi: Amid reports that Shazia Ilmi may join BJP soon, the former AAP leader today confirmed that she will be campaigning against Aam Aadmi Party in upcoming Delhi Assembly polls and that  it's her desire to expose AAP.
"I will be campaigning against AAP,want to expose AAP for what it is,will do whatever I can to that effect", Shazia Ilmi said while talking to reporters today.
Shazia, however, did not disclose whether she would join the BJP or not.
"I'll answer this question soon. Give me some time," said Shazia.
ALSO WATCH:
"There are many AAP volunteers who want to quit AAP," added Shazia.
Yesterday, Shazia had denied media reports that she will be contesting against Arvind Kejriwal from New Delhi Assembly constituency as a BJP candidate.
In a late night tweet, Ilmi said, " I am not contesting from New Delhi or elsewhere, calm down folks."
Earlier, Kejriwal had told reporters at a press conference that, "She (Ilmi) is a citizen of this country and is free to contest from anywhere she wants."
But hours after the press meet, Kejriwal took a swipe at Ilmi by re-tweeting one of her tweets, dated November 21, 2013 titled 'Hypocrisy, thy name is BJP'.
Ilmi, who was in AAP at that time, criticises the BJP and the Congress over its funding in the tweet.
She had contested the 2013 Assembly polls from RK Puram and lost by a slender margin. AAP then wanted to pit her against Congress president Sonia Gandhi, but she refused. Rejecting her demand to contest from Delhi, she was finally fielded from Ghaziabad, from where she suffered a drubbing.
Ilmi quit the party lashing out at a "coterie" surrounding Kejriwal, just days after the party faced a drubbing in the Lok Sabha polls.
The former AAP leader also participated in Delhi BJP's 'Swachch Bharat Abiyaan', but did not join the party.
Sources in the BJP said the former AAP leader could join the party in two or three days.