Shazia Ilmi unwilling to contest against Sonia, Vishwas miffed over new AAP entrants
New Delhi/Amethi: Sparks are flying in Aam Aadmi Party leader with Shazia Ilmi expressing her unwillingness in public to contest against UPA chairperson Sonia Gandhi from Rae Bareli. Shazia Ilmi tweeted: "I am not contesting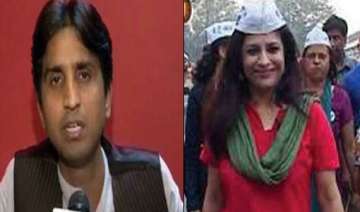 India TV News Desk
March 12, 2014 10:58 IST
New Delhi/Amethi
: Sparks are flying in Aam Aadmi Party leader with Shazia Ilmi expressing her unwillingness in public to contest against UPA chairperson Sonia Gandhi from Rae Bareli.
Shazia Ilmi tweeted: "I am not contesting from Raebarelli, I never agreed to nor do I know. I have been denying this for last two months. "
Shazia, who contested and lost by a slender margin from Delhi's R K Puram seat in the last assembly elections, is more interested in contesting from any seat in Delhi or Farrukhabad, to take on External Affairs Minister Salman Khurshid.
AAP leaders are now thinking in terms of using Shazia for countrywide campaigning instead of pitting her in elections.
Meanwhile, from Amethi, Kumar Vishwas, pitted against Congress vice-president Rahul Gandhi, tweeted: ''Chadhti nadi me nale girenge to asthavaan snan se bhi darega, achman to bhool hi jao.''  (If dirty drains fall in a river in spate, even the faithful will be afraid to take a holy dip, forget drinking the water)