Shoe hurled at Bihar CM Jitan Ram Manjhi
Patna: Accusing the Bihar Chief Minister Jitan Ram Manjhi of promoting caste politics in the state, a man threw a shoe at him this morning at the weekly 'Janata Darbar'.The shoe, however, missed the mark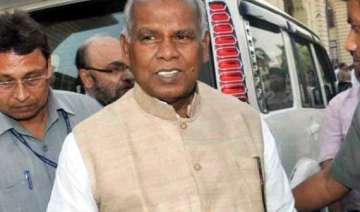 India TV News Desk
January 05, 2015 16:20 IST
Patna: Accusing the Bihar Chief Minister Jitan Ram Manjhi of promoting caste politics in the state, a man threw a shoe at him this morning at the weekly 'Janata Darbar'.
The shoe, however, missed the mark and Manjhi escaped unhurt.
The man has been identified as Amitesh Kumar, a resident of Saran district.
He told police that he was fed up and angry as his work has not been done despite his several visits to the 'Janata Durbar'.
The man accused Manjhi of not doing any development in the state and playing caste politics in Bihar.
"The shoe fell four or five feet ahead of Manjhi but it shocked him, who never expected such kind of incident," said a police officer .
Also Read: Bihar chief minister orders probe into alleged conversion
Patna Senior Superintendent of Police Jitendra Rana told reporters that a man has been arrested for creating trouble at the 'Janata Durbar'.
According to Rana, Amitesh's father is a member of AAP (Aam Aadmi Party).
 "Amitesh hurled the shoe at the CM to get publicity," added Rana.
'Janata Durbar' is held every week at the chief minister residence here where he meets people and listens to their grievances. It was started by former chief minister Nitish Kumar in 2006.