Sonia congratulates Sirisena
New Delhi: Congress president Sonia Gandhi Friday congratulated Maithripala Sirisena on his "emphatic and historic victory" in Sri Lanka's presidential election.In a statement, Gandhi extended her greetings to the people of Sri Lanka and applauded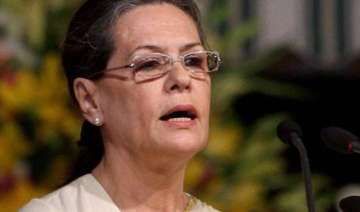 IANS
January 09, 2015 15:41 IST
New Delhi: Congress president Sonia Gandhi Friday congratulated Maithripala Sirisena on his "emphatic and historic victory" in Sri Lanka's presidential election.
In a statement, Gandhi extended her greetings to the people of Sri Lanka and applauded their commitment to democracy.
Gandhi underlined the historic and friendly ties between India and Sri Lanka and hoped that the relations between the two countries will continue to strengthen further.
She extended good wishes to the president-elect in his efforts to promote the welfare and unity of the people of Sri Lanka.