Sonia's son-in-law Vadra enjoys privilege, says maverick SP minister Azam Khan
Lucknow:  On a day Samajwadi Party wondered how Sonia Gandhi could be held responsible for her son-in-law Robert Vadra's alleged wrongdoings, senior party leader Azam Khan took a dig at the Congress president, saying no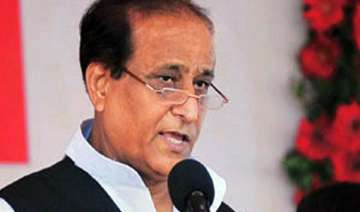 PTI
August 13, 2013 18:29 IST
Lucknow:
  On a day Samajwadi Party wondered how Sonia Gandhi could be held responsible for her son-in-law Robert Vadra's alleged wrongdoings, senior party leader Azam Khan took a dig at the Congress president, saying no probe should be ordered against Vadra as they all enjoy "privilege".
"Sonia Gandhi ke damad ki jaanch honi bhi nahi chahiye, yeh unka privilege hai(there should be no inquiry against son-in-law of Sonia Gandhi as, after all, they all enjoy privilege), Khan, a minister in UP cabinet, said here.
Azam, who had criticised Gandhi over writing to Prime Minister Manmohan Singh in support of suspended IAS officer Durga Sakhti Nagpal, questioning about her (Gandhi's) level, said that a Congress spokesperson had taken exception to it and had said a lot about his (Khan's) level at that time.
Samajwadi Party has said BJP was "politicising" the issue of Roberta Vadra's land deals, which was a state matter and should be handled at that level only.
"I don't agree with the BJP's slogan of 'sarkari damaad'. We are not in agreement with the politicisation of the issue and dragging Sonia Gandhi in to the issue. I do not see how she can be held responsible for the whole issue," party leader Naresh Agrawal said earlier.