Sonia seeks state units views on more accountability, expanded base
New Delhi: Congress president Sonia Gandhi has written to party chiefs in states seeking their opinion on ways to increase accountability of leaders at various levels, organisational reforms and way forward to expand its base.In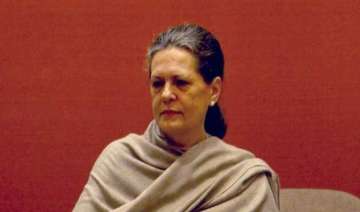 IANS
January 11, 2015 8:51 IST
New Delhi: Congress president Sonia Gandhi has written to party chiefs in states seeking their opinion on ways to increase accountability of leaders at various levels, organisational reforms and way forward to expand its base.
In a letter written last month but only made available to the media Saturday, Gandhi said that the inputs from states will help finalise "agenda for action" which will subsequently be ratified by the session of All India Congress Committee.
The Congress has been seeking ways for its electoral revival after series of reverses. The party could win only 44 seats in the Lok Sabha elections and has not performed well in subsequent assembly polls. Party sources said that a session of AICC could be held in March.
In her letter, she said that party vice president Rahul Gandhi has held a series of meetings with leaders from various parts of the country on three core areas - "Congress ideology, organisational reforms required to progressively devolve power and increase accountability at all levels and way forward for the party to win confidence of all sections and expand its base."
She said the party intends to devolve power and strengthen voice of party workers in decision-making, and called on state units to organise a series of small group discussions on the core areas at state and district level and send a state-level report by February-end.
On ideology, the state units have been asked to send inputs on non-negotiable elements, core constituencies and issues to mobilise them.
They have also been asked to give suggestions on distribution of power between the party's state, district and block committees as also between the party and the government, as well on inputs on roles, responsibilities and performance indicators for party functionaries from block chief to the general secretaries.
They have been asked about activities which constitute indiscipline and mechanism to deal with it.
The letter asks state units about mass contact programme for the next one year, potential nation-wide campaigns over the next year and structure to effectively use the social media.
The state units have also been asked to give their inputs on action to be taken against party leaders for poor distribution of tickets and role of party's units in ticket distribution.
As part of party's political strategy, the state units have been asked about measures to mobilise youth including those still in school, measures to inspire confidence in youth in reference to job creation and their aspiration for better life.
The state units have been asked about mechanism to constitute booth committees, growth path for party workers and desirability of a welfare fund for party workers.
They have also been asked about ways to mobilise occupation-based groups.