Special assistance to Bihar is a question of its welfare: CM
Patna: Bihar Chief Minister Nitish Kumar today said the special assistance to the state was "a question of its welfare and right", and his officers were following the issue after he submitted a memorandum to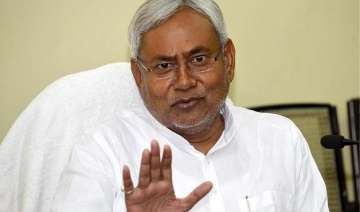 PTI
April 11, 2015 21:10 IST
Patna: Bihar Chief Minister Nitish Kumar today said the special assistance to the state was "a question of its welfare and right", and his officers were following the issue after he submitted a memorandum to Prime Minister Narendra Modi recently.
"I had apprised the Prime Minister of our requirements in the memorandum, and also the financial loss to Bihar due to the recommendations of the 14th Finance Commission. Special assistance to the state is a question of its welfare and right," Kumar said.
"Our Chief Secretary Anjani Kumar Singh and Secretary Chanchal Kumar followed it up yesterday by meeting Niti Aayog Vice-Chairman Arvind Panagariya and CEO Sindhushree Khullar," he added.
The chief minister was talking to media persons on the sidelines of a workshop on 'health, women and development' organised by Asian Development Research Institute (ADRI) and Population Foundation of India (PFI) here in the state capital.
He added that both the officials of Bihar government submitted a memorandum to Panagariya and Khullar, and informed them about the difficulties being faced by the state government due to stopping special assistance and money provided under Backward Region Grants Fund (BRGF).
Reacting to questions on the merger of six Janata Parivar parties including JD (U), RJD, SP, JD (S), INLD and SJP, Kumar said SP President Mulayam Singh Yadav was authorised to make a formal announcement on it.
"I always welcome and listen to all the MLAs who come to me. If BJP MLAs come I hear them as well. I'll welcome them if they come to meet me," Kumar said.