Stop communal forces in elections: Manmohan Singh
New Delhi: In a remark that could be seen as a direct hit on BJP and Narendra Modi, Prime Minister Manmohan Singh on Tuesday warned against the communal forces which 'need to be defeated' in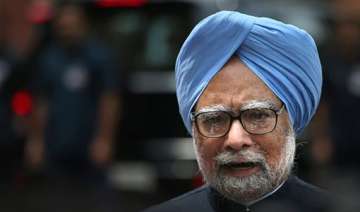 PTI
August 21, 2013 11:12 IST
New Delhi:
In a remark that could be seen as a direct hit on BJP and Narendra Modi, Prime Minister Manmohan Singh on Tuesday warned against the communal forces which 'need to be defeated' in the elections as they could divide the society.
"India is a vast modern nation. Along with several religions, it has several languages and sects. Many times, this diversity is exploited to create a divide among us," he said at a function organised in New Delhi to give the away Rajiv Gandhi Sadhbhavna Award to sarod maestro Ustad Amjad Ali Khan. The award was presented by Congress President Sonia Gandhi and the Prime Minister.
"A few days back, there was communal violence in the country. From that we should take lessons that there should never be laxity in the efforts to stop communal forces," Singh said. "We have to oppose such communal forces all the time, at all levels, whether it is daily life or elections," he said.
The Prime Minister underlined that "it is the responsibility of all political parties, all sections of the society and duty of all of us to ensure that such efforts are defeated." Though Singh did not name anyone in particular, his comments could be seen as directed against Modi, BJP's virtual face for the next Lok Sabha elections who is being viewed by Congress as a "divisive" figure.
Singh referred to the recent violence in Kishtwar town of Jammu and Kashmir and said lessons needed to be learnt from that so that there is no laxity in the efforts to stop communal forces. Singh called for continued efforts to promote communal harmony so that "there is never mistrust for each other and nobody is able to create divide among us. This will be real tribute to Rajiv Gandhi".
Speaking on the occasion, Sonia Gandhi said a divided society cannot progress with all its strength. "The founders of our country implemented this in their lives. Soon after Independence, Gandhiji and later Indiraji and Rajivji paid the price for this. These are not simple episodes of history. This will always be imbibed in the history of new India and continue to provide light to the society. Lamp gives light by burning itself," she said.
She said as her husband had realised that narrow mentality was dividing the society, he had launched a series of Sadbhavana yatras just before he was assassinated.