Sukhbir Badal lauds Sikh leader over turban stand
Chandigarh, Aug 9: Punjab Deputy Chief Minister Sukhbir Singh Badal Thursday lauded Delhi Sikh Gurdwara Managaement Committee (DSGMC) president Manjit Singh G.K. for sticking to his stand not to remove his turban at the Rome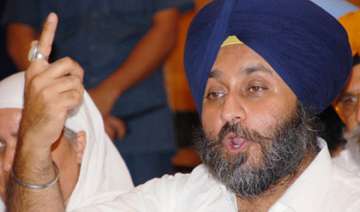 IANS
August 09, 2013 14:50 IST
Chandigarh, Aug 9
: Punjab Deputy Chief Minister Sukhbir Singh Badal Thursday lauded Delhi Sikh Gurdwara Managaement Committee (DSGMC) president Manjit Singh G.K. for sticking to his stand not to remove his turban at the Rome international airport for a security check.
"His defiant gesture has conveyed to the whole community that Sikhs would not allow anyone to meddle in their internal religious affairs," Badal, also the Akali Dal chief, said in Faridkot, 250 km from here, Thursday.
Manjit Singh and other Sikh leaders, who had refused to remove their turbans saying that it was a religious symbol for the Sikh community, were detained at the Rome airport by the authorities there and not allowed to board their flight.
The Sikh leaders were allowed to board Thursday after the Indian embassy in Rome intervened.
Badal said: "Turban is an intricate part of Sikh personality and nobody in the world has any right to denigrate the pious symbol of their Sikh identity."
"It is unfortunate that various democracies of US, Canada and European countries were adopting parochial and racial approach towards Sikh community, specifically targeting them at the international airport by taking the plea of security."
He said that Congress-led UPA government owes an apology to the Sikh community for failing to give a firm message to all countries not to harass Sikh community at various airports.
He added that it was double whammy for the Sikh community that they were being targeted when the country has a Sikh prime minister.
Badal alleged that the targeting of Sikhs in Italy could be an "underlying conspiracy of Congress leadership".