Suspicious boat: BJP hails Coast Guard, flays Pak
New Delhi: Accusing Pakistan of repeatedly aiding terror activities in India, BJP on Friday said it reflects "frustration" of the neighbouring country and complimented the armed forces for foiling a bid similar to the 26/11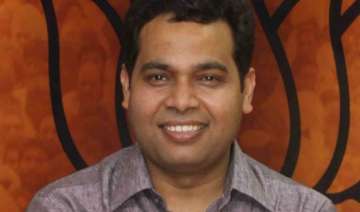 PTI
January 02, 2015 23:37 IST
New Delhi: Accusing Pakistan of repeatedly aiding terror activities in India, BJP on Friday said it reflects "frustration" of the neighbouring country and complimented the armed forces for foiling a bid similar to the 26/11 terror attacks off the Gujarat Coast.
BJP also lauded the alacrity displayed by the forces in foiling the bid and said it was a result of Prime Minister Narendra Modi giving more powers to them in dealing with terror activities of its own instead of looking up to Delhi.
In a midnight operation in the high seas, a Pakistani fishing boat said to be carrying explosives was intercepted by the Indian Coast Guard off the coast of Gujarat, but the vessel exploded and caught fire before sinking along with four occupants.
"This is yet another attempt by a frustrated Pakistan in aiding terror activities in India, as it has been continuously aiding and exporting terrorism to the world.
"BJP compliments the armed forces for foiling such an attempt as they displayed perfect coordination in tackling terror activities. This also demonstrates Prime Minister Narendra Modi's leadership of empowering the forces to deal with any such situation on their own," BJP national secretary Shrikant Sharma said.
The incident which occurred on the night between December 31 and January 1, some 365 kms off the coast of Porbander, generated strong speculation that it was reminiscent of 2008 Mumbai terror strikes, but there was no official confirmation of that with the defence ministry merely stating that the boat from Keti Bunder near Karachi "was planning some illicit transaction" in the Arabian Sea.
Parliamentary affairs minister M Venkaiah Naidu said, "Pakistan has always been aiding and funding terrorists. It has now become their regular habit."
BJP spokesperson GVL Narasimha Rao said, "It clearly shows itself to be a possible terror operation and the Coast Guard certainly need to be complimented for averting possible terror attack."