Swine flu: Union minister VK Singh issues directions to district authorities
Ghaziabad: Union minister and local MP General (retd) V K Singh has directed district administration to take all precautionary measures to deal with swine flu, days after a 51-year-old woman of the district died due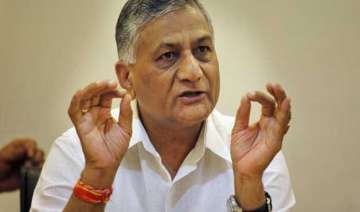 PTI
January 03, 2015 20:05 IST
Ghaziabad: Union minister and local MP General (retd) V K Singh has directed district administration to take all precautionary measures to deal with swine flu, days after a 51-year-old woman of the district died due to the disease in a Delhi hospital.
"Disease like swine flu should be taken seriously so that it may not spread all over the district. The precautionary arrangements should be available in the district hospital," the Minister of State for External Affairs said yesterday.
The former Army chief also held a meeting with District Magistrate Vimal Kumar Sharma and Chief Medical Officer (CMO) Dr Ajay Aggarwal on Friday.
Later, the DM directed the health authorities to launch an awareness programme to allay the fear of people in the district.
District Malaria Officer Dr Gyanendra Kumar Mishra told that swine flu is an infection caused by Influenza A virus sub type H1N1 and "spreads fast from infected persons through coughing or sneezing."
Sheel Goel, a resident of East Model Town in Ghaziabad, was admitted to the ICU of Ganga Ram Hospital in a serious condition on December 21.
"At the time of admission, the patient was in a critical state. She had lung failure and was on high frequency ventilator support. Her diagnosis at Ghaziabad and Sir Ganga Ram Hospital confirmed it to be a case of swine flu," hospital spokesperson Ajoy Sehgal had said.  "In spite of the best efforts of doctors, the patient expired on the morning of December 24," he said.