TDP leader Zahid Ali Khan not to contest polls
Hyderabad: Telugu Desam Party (TDP) politburo member Zahid Ali Khan Sunday made it clear that he will not contest coming elections.Editor of Urdu daily "Siasat", Khan had contested for Lok Sabha from Hyderabad in 2009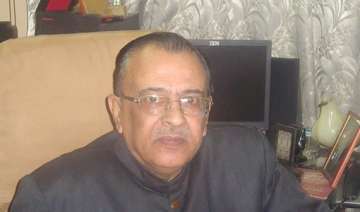 IANS
March 10, 2014 11:38 IST
Hyderabad:
Telugu Desam Party (TDP) politburo member Zahid Ali Khan Sunday made it clear that he will not contest coming elections.
Editor of Urdu daily "Siasat", Khan had contested for Lok Sabha from Hyderabad in 2009 but was defeated by Majlis-e-Ittehadul Muslimeen (MIM) chief Asaduddin Owaisi.
Aam Aadmi Party (AAP) had offered him a ticket to contest for the same seat this time. He, however, did not accept the offer.
At a meeting here, Zahid Khan Sunday that he will not contest elections but will continue to serve the community as he is currently doing.
In 2009 elections, he gave a tough fight to Owaisi in the MIM stronghold. He had polled nearly two lakh votes but still lost by a margin of over 1.13 lakh votes