Telangana Movement Chief Arrested
Telangana Rashtra Samiti (TRS) president K Chandrasekhara Rao was arrested on Sunday in Andhra Pradesh's Karimnagar district as he was heading to Medak district to launch a 'fast unto death', demanding separate statehood for Telangana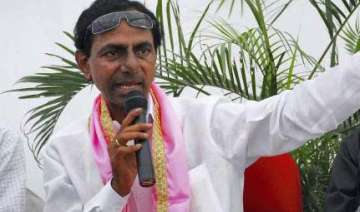 PTI
November 29, 2009 11:04 IST
Telangana Rashtra Samiti (TRS) president K Chandrasekhara Rao was arrested on Sunday in Andhra Pradesh's Karimnagar district as he was heading to Medak district to launch a 'fast unto death', demanding separate statehood for Telangana region, officials said.
Chandrasekhara Rao was going to Siddipet town in Medak, about 100 km from here, when he was taken into custody. The Mahabubnagar MP had vowed a fight to the finish by sitting on a fast unto death from 11am near the Martyrs Memorial at Siddipet. 
Tension prevailed in Karimnagar district after his arrest as TRS workers came out onto the streets and damaged buses. 
In Siddipet, TRS legislator Harish Rao launched a fast unto death after hearing about the arrest of the party chief. 
The police have sounded an alert in all Telangana districts, apprehending violence after Chandrasekhara Rao's arrest.