Telangana: NTR's son N Harikrishna resigns
Hyderabad, Aug 5: TDP Rajya Sabha member and late N T Rama Rao's son N Harikrishna on Sunday resigned from his post over the division of Andhra Pradesh.Harikrishna, who displayed his resignation letter to the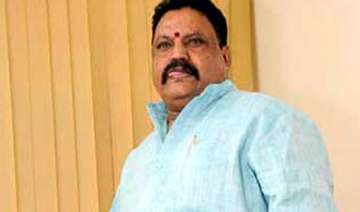 PTI
August 05, 2013 7:45 IST
Hyderabad, Aug 5
: TDP Rajya Sabha member and late N T Rama Rao's son N Harikrishna on Sunday resigned from his post over the division of Andhra Pradesh.
Harikrishna, who displayed his resignation letter to the media, alleged that the Congress leadership announced the division without resolving the crucial issues like water sharing.
He offered tributes at the 'samadhi' of late N T Rama Rao here today.
Accusing the Congress of dividing Andhra Pradesh only to serve its political interests, five MPs of Telugu Desam Party (TDP) have already resigned from their posts.
The MPs -- Y Satyanarayana Choudary, C M Ramesh (both Rajya Sabha), Nimmala Kistappa, Konakalla Narayana and Modugula Venugopal Reddy (Lok Sabha) -- said they were resigning in protest against the "injustice" being meted out to (new) Andhra Pradesh through the division.
"Our party has favoured creation of Telangana state. We stand by it. We are not against the Bill (for creation of a new state). But we want the interests of new Andhra Pradesh, that will come into being upon bifurcation, to be protected," the MPs announced at a press conference here this evening.
Harikrishna had written an open letter to people on August 2 on the division issue of the state.
"I bow my head to the wishes of people of Telangana and accept the bifurcation of the state. The TDP is not against bifurcation but Sonia Gandhi has left one eye bleeding blood by not addressing the concerns of people of Andhra-Rayalaseema," Harikrishna lashed out.
Five Andhra Pradesh ministers and almost all of the 75 Congress MLAs from coastal Andhra and Rayalaseema have submitted resignations.