There is a crisis of confidence in the govt: Former PM Manmohan Singh
New Delhi: Former Prime Minister Manmohan Singh has said there is a crisis of confidence in the government and that Prime Minister Narendra Modi must give "every Indian" the confidence that he cares for people's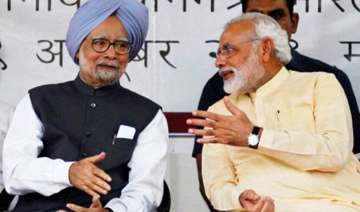 India TV News Desk
February 13, 2016 7:09 IST
New Delhi: Former Prime Minister Manmohan Singh has said there is a crisis of confidence in the government and that Prime Minister Narendra Modi must give "every Indian" the confidence that he cares for people's well-being.
Stating that "people don't believe the government", the former prime minister said, "when they (apparently industrialists) go and call on the ministers, they say the right things, but when they come out, all of them say that nothing much has changed... There is today a crisis of confidence in the government."
Singh was critical of the prime minister for not speaking on issues like beef or communal riots in Muzaffarnagar and elsewhere. Singh said beef controversy and issues like intolerance were problems.
"I don't know. I cannot read his mind. But he is the prime minister of all the people of India and he must give every Indian the confidence that in him we have a prime minister who cares for our well-being," news agency PTI quoted the former PM as having told a news magazine.
Reacting to his remarks, Union Minister Nirmala Sitharaman said the criticism was "misplaced" while adding that the Modi government had launched a host of schemes like Mudra and Jan Dhan besides other welfare measures for the downtrodden and weaker sections of society.
"Singh is very welcome. He advised the prime minister to be PM for all India and I will like to say that Modi's campaign was 'sabka saath, sabka vikas' (with all, development for all) and he is very clearly fulfilling this," the BJP leader said.
Singh also criticised the Modi government's handling of Pakistan and Nepal, saying its dealing with Pakistan was inconsistent. "It has been one step forward, two steps back."
He recalled that Modi had told him during an event to mark Sharad Pawar's 75th birthday that the government was following his suggestion to him.
"I don't think he would ever do that in public," Singh shot back when asked if Modi was giving credit to him.
 The Prime Minister's surprise stopover in Lahore on his way to India from Afghanistan was not thought through and there was no need to create an euphoria about it, he added.
Singh, a noted economist himself, also faulted the government's economic policy and said the economy is not in good shape as it could be, "despite the fact that the situation today was much more favourable than it was when we, the Congress-led UPA, were in government."
Asked about the hostility between the treasury and opposition benches, he said it wasn't good for democracy and the country.
"There is unwanted bitterness between the two sides. It does not have to be that way," he said, blaming BJP for this. 
(With PTI inputs)