Those who can't live without beef mustn't visit Haryana: Health Minister Anil Vij
Ambala: Haryana's Health and Sports Minister Anil Vij has said that the people who cannot live without eating beef should not visit the state where stringent cow protection laws are in place."There are some countries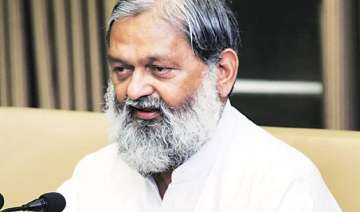 PTI
February 10, 2016 11:21 IST
Ambala: Haryana's Health and Sports Minister Anil Vij has said that the people who cannot live without eating beef should not visit the state where stringent cow protection laws are in place.
"There are some countries we don't visit because food and drinking habits there don't suit us. Likewise, those people who can't live without eating beef should not come to Haryana)," Vij told reporters on Tuesday, when asked if the state would issue special permits to foreigners to consume beef in the state.
Vij said Chief Minister Manohar Lal Khattar had clarified the issue and ruled out any plan to issue such licences and give relaxation to foreigners to consume beef in the state.
Vij had last year pitched for declaring cow as the national animal and launched an online poll on the issue. However, Chief Minister Khattar had reportedly said earlier he was open to relax the beef ban for foreigners in the state.
Haryana's 'Gauvansh Sanrakshan and Gausamvardhan Bill, passed by the Assembly in March last year, came into force in November last.
Under the provisions of the law, cow trafficking, slaughtering and eating beef are banned in the state.
The law clamps a complete ban on cow slaughter in the state and provides for a rigorous imprisonment ranging from three years to 10 years for killing the animal.